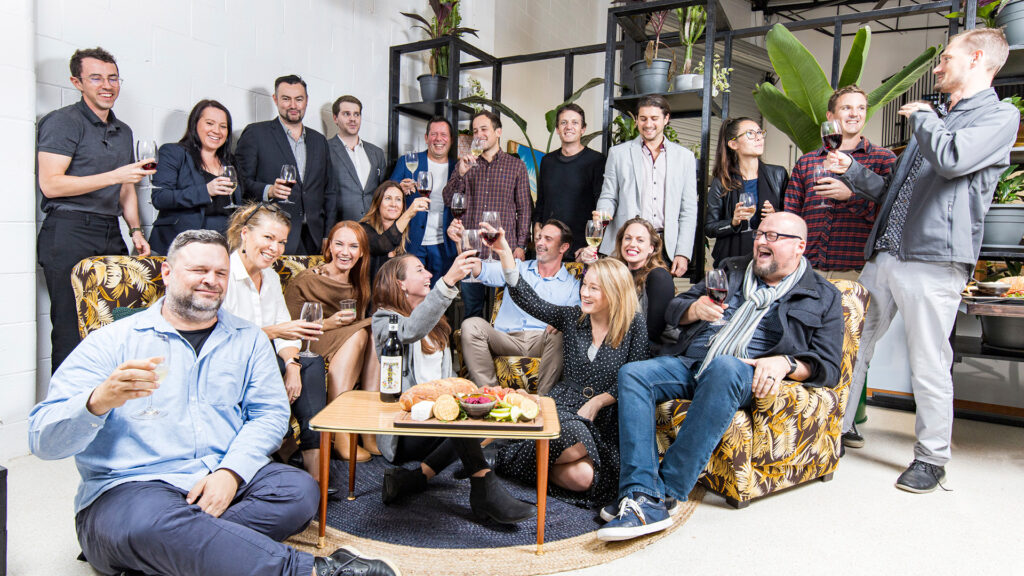 Bucking the trend in declining numbers, District 9640 is thinking outside the Rotary box to attract and retain a youthful new membership.
For years we have discussed, debated and workshopped how to grow Rotary membership. However, year after year on July 1, we see a steady decline of members across Australia and New Zealand. Some of the biggest losses have occurred in the past two years. In 2019-20 we lost 1617 members and 985 in 2018-19. All districts in Zone 8 lost members – except one. So, what is the secret to District 9640's membership growth and retention?
The top 10 net growth clubs in Australia attracted 184 new members to Rotary over the past three years. Of these, the top three clubs are from District 9640, accounting for 40 per cent of membership growth. The top 10 new clubs formed in Australia over the past three years attracted 304 new members to Rotary. Gold Coast Passport Rotary Club in District 9640 is the top growth new club in Australia, attracting more than 18 new members since chartering in June 2019. This shows that forming new Rotary clubs will accelerate our membership growth.
"In District 9640 we formed four new Rotary clubs and four satellite clubs in the past three years. This gave us a consistent growth and we did not lose our total number of members. We plan to start another three new Rotary clubs and two Rotaract clubs this year to attract 100 new members," said District 9640 Governor Andy Rajapakse, who has pioneered the formation of new format Rotary clubs in the district, including the Rotary clubs of Varsity Lakes, Gold Coast Passport and Gold Coast Corporate.
Andy said the district is working on old fashioned basics. He has appointed 12 governor's special representatives to start new Rotary, Rotaract, Interact and Rotex clubs in the district. D9640 is the only district in Zone 8 that has 100 per cent of clubs report 'Membership Goals' for this year on my.rotary.org.
"If you don't have a goal, how will you know what direction your club is going in?" asked District Membership Chairman Rowan Johnstone, who led the growth of his Gold Coast Rotary Club in the past three years to become the largest Rotary club in Queensland. The District Club Development and Extension Team is led by David Baguley from the Gold Coast Rotary Club and PDG Sandra Doumany from the Rotary Club of Hope Island, who pioneered satellite clubs in the district, with proven membership experience from two of the largest net growth clubs in Australia.
The majority of District 9640's growth comes from attracting female members by forming new format clubs with more flexibility and affordability. In 2018-19, on the recommendation of then District Governor Terry Brown and Governor-elect Harry Bolton, the G-Train and Rotary clubs decided to waive off district dues for partners of Rotarians who wish to join a Rotary club in the district. This ground-breaking initiative attracted 92 partners to join Rotary over the past three years. Today, with 34.3 per cent females in their 1230 membership, D9640 has the highest percentage of female members in Zone 8.
Forming new model Rotary clubs and satellite clubs also attracted younger members, who are more cause-driven than meeting-centric. Five of the district's 54 club presidents this Rotary year are under 30 years of age and another four are under 40. With 6.8 per cent under 40s, D9640 has the second-highest percentage of Millennials in a Rotary district in Australia. Andy's goal is to have 8 per cent under 40s by July 1, 2021.
The Gold Coast Passport Rotary Club alone has 30 members under 40 in its 38 membership and is positioned to attract Gen Z – those born after 1995.
Last month, the District Leadership decided to waive district dues for under 30s from January 2021 in a bid to make it more affordable for Gen Z members and Rotaractors to join Rotary. District 9640 currently has 38 members under 30 years of age and plans to increase this to 75 by July 1.
The district has also created its own benchmark in membership training. With the COVID-19 crisis, D9640 moved away from the traditional district assembly to 'Cluster Musters' in different parts of the district to discuss and plan new membership and public image strategies specific to each geographic area.
"These one-day interactive training programs challenged club leaders to speak to each other and strategically collaborate as teams in a geographic area to create a better impact in their local community to attract new members," said District Coach PDG Professor Michael Irving, who in 2016 as District Governor initiated a strategic leadership approach to membership development that has continued with improvements each year. The results are seen in membership numbers today.
Since 2016, the district has annually conducted a membership workshop with well-known speakers from outside their district. They are in the calibre of DGN Amanda Wendt (D9800), Mark Huddleston (D9510), Tim Moore (D9820), RI Regional Membership Officer Barbara Mifsud, RI Club & District Support Supervisor Andrew Best, RI Club & District Support Coordinator Trudy Gris, Doug St Clair (D9630), Evan Burrell (D9685), Terry Daley and Craig Winter (D9570). The district purchased 350 copies of Creatures of Habit by Mark Huddleston for club leaders, so all clubs in the district will be on the same page on how to grow membership by attracting members rather than recruiting them.
The District Membership Summit held in August this year attracted 70 club leaders from 35 clubs to the Gold Coast in a COVID-19 safe environment to hear from non-Rotarian speakers Ryan Tuckwood, CEO of ISR Sales Training, on 'how to sell Rotary to your neighbour' and Toastmaster Mark Hamawi, CEO of LeaderHouse, on 'how to manage high-performance volunteer teams'. District 9640 has broken with tradition to experiment with non-Rotarian speakers to motivate Rotary clubs to think outside the box. The feedback from participants was encouraging.
"The most excellent membership training day I have had in my 35 years in Rotary, having come from NSW to Queensland," said Asst Governor David Bisiker, of the Rotary Club of Parkwood. "We got a great team of brave leaders."
"It was a highly informative session for me as a new Rotarian," said Wayne Froneman, President-elect of the Gold Coast Passport Rotary Club. "There was great engagement with many club leaders in our district."
"It was a great summit with two awesome keynote speakers on selling Rotary and leadership that works," said Assistant Governor Cara Champion, of the Rotary Club of Fassifern Valley. "I am inspired to follow up with my cluster clubs to grow Rotary."