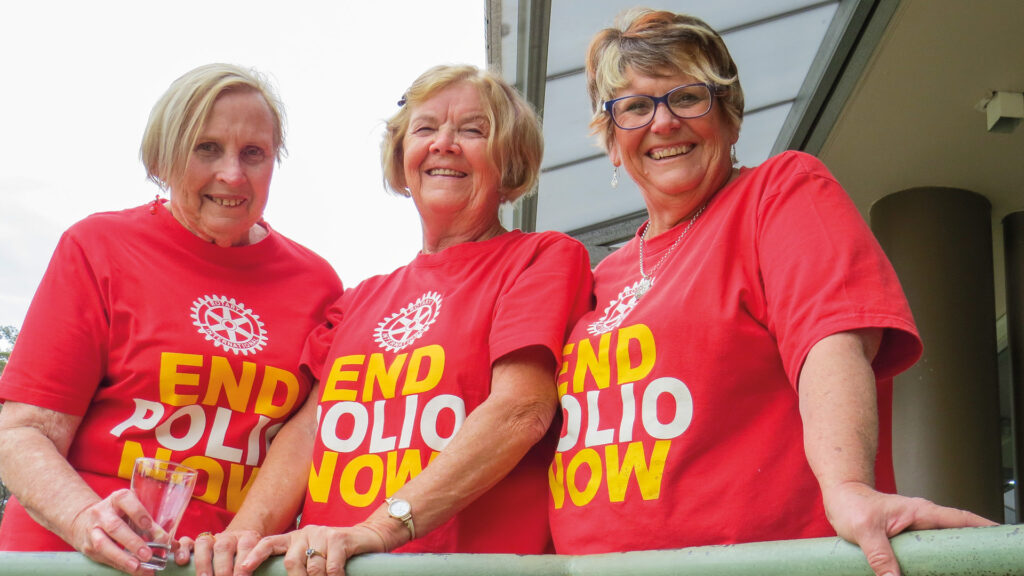 PDG Bob Aitken AM
RI End Polio Now Coordinator, Zone 8, 2020-21
Rotary Club of Lower Blue Mountains, NSW
World Polio Day is an opportunity for Rotary clubs and members to promote the significance of the Global Polio Eradication Campaign to
their communities.
If world leaders could broker peace along the Pakistan/Afghanistan border, Rotary's dream of a polio free world would be achieved in three to four years – just enough time for our vaccination teams to get to all children in those isolated outposts and confirm the required polio free period.
Such was the case in Africa a few weeks ago.
The last endemic country on the continent, Nigeria, had not recorded a single case of the wild polio virus for four years, thus allowing the continent to be declared polio free!
Then African President Nelson Mandela launched the 'Kick Polio out of Africa' campaign in 1996. Millions of health workers crisscrossed 47 countries by foot, boat, bike and bus and utilised many innovative strategies to vaccinate children amid conflict and insecurity to achieve the hard-won goal in just a couple of decades.
Our charge to everyone on World Polio Day (October 24) this year is to share this news with communities and mount a massive fundraising effort to ensure the campaign is well funded in Pakistan and Afghanistan – and diligent surveillance continues in many other countries.
The COVID-19 pandemic is disrupting every effort to combat vaccine preventable diseases like polio.
Back in March, the Global Polio Eradication Initiative recommended countries temporarily pause house to house polio vaccination campaigns and make our workers and resources available to assist the COVID campaign.
However, it is vital that vaccination levels are maintained to ensure vaccine derived cases are controlled. Accordingly, vaccination campaigns have now recommenced in Pakistan, Afghanistan, Burkina Faso, Angola, Niger, Ghana and the Philippines – under World Health Organisation guidance.
While October 24 is our official World Polio Day, clubs and districts are encouraged to adopt any date that suits for special events and promotions.
News is filtering through of many different events – colourful 'Ride the Train' events in Australia and New Zealand, major Walks for Polio across the region, inter-club lawn bowls days, 'virtual' dinners to encourage personal giving from all Rotarians, movie nights and many other unique events like the Polio Ute Relay between Alice Springs, NT, and Adelaide, SA.
What about a community tree planting day to promote Rotary's new environmental focus? Invite the Mayor and other local dignitaries within your town to join with Rotary club leaders and have plenty of banners and hand outs in the striking End Polio Now red and gold colours on show.
See the inside back cover of this issue for the impressive range of shirts, caps, balloons banners, aprons and posters – or go to PolioPlus@rotary.org to see the latest toolkit and resources available online.
Every club and district has been provided with details of the Sir Clem Renouf Polio Appeal, which provides opportunity to make special donations to recognise the life and service of one of our greatest ever Rotarians. See pages 52-56 in the September issue of RDU.
So, there really is no excuse not to be ready for World Polio Day events. Plan now. Have fun. Raise money – and report your highlights to RDU for future publication within these pages.