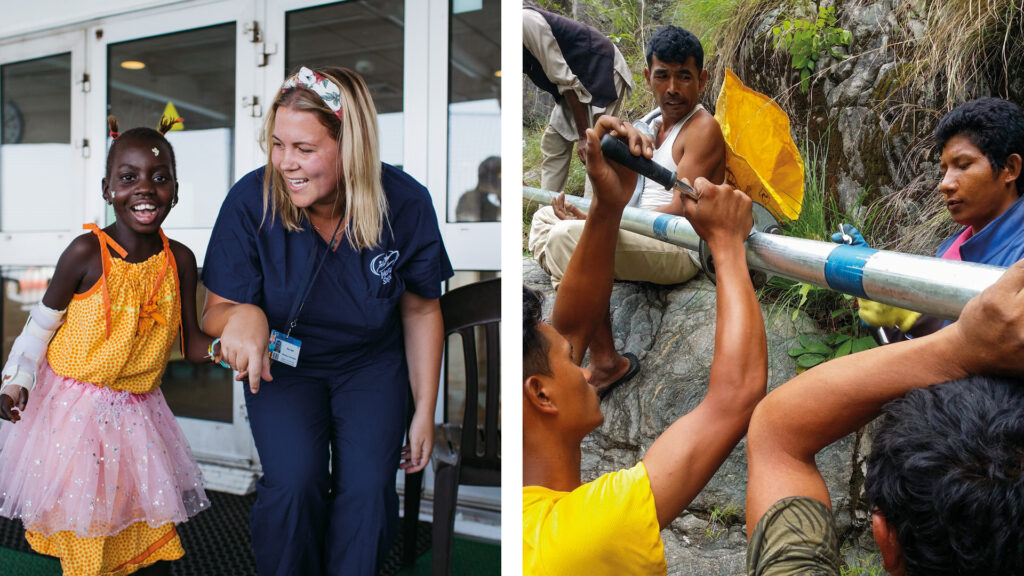 The Rotary Foundation is dedicated to assisting Rotarians Do Good in the World. By delivering financial resources and facilitating new connections, the Foundation helps clubs and districts work together to perform meaningful, sustainable service – whether in their own communities or around the globe.
Our top-rated, award-winning Foundation has spent billions of dollars on life-changing, sustainable projects that help people in need access clean water, medical care, literacy programs, and many other essentials.
Through the generosity of Rotary members these sustainable changes continue to benefit communities in need.
What?
The Rotary Foundation transforms gifts and donations into service projects that change lives both close to home and around the world. Since it was founded more than 100 years ago, the Foundation has spent more than $4 billion on life-changing, sustainable projects. At the 1917 convention in Atlanta, US, outgoing RI President Arch Klumph planted the seed for an endowment fund dedicated to 'doing good in the world'. That one idea, and an initial contribution of $26.50, set in motion a powerful force that has transformed millions of lives around the globe, enabling Rotarians to perpetuate our founder's vision to give back to the community.
Why?
Scoring a four out of four star rating from Charity Navigator, The Rotary Foundation supports the efforts of Rotarians in our mission to achieve world understanding and peace. Through our Foundation, we have supported thousands of projects to provide clean water, fight disease, promote peace, provide basic education, support women and children, grow local economies and provide immediate assistance for disaster response. Foundation grants empower Rotarians to approach challenges such as poverty, illiteracy and malnutrition with sustainable solutions that leave a lasting impact.
How?
Rotarians and their Rotary clubs are Doing Good in the World by creating long-lasting IMPACT through their global grant and district grant projects. These projects are based on the outcomes of community needs assessments, and through planning and execution they deliver sustainable outcomes and strong financial stewardship of the funds. Along with this is the investment in the Rotary Peace Centre program, polio eradication and disaster response grants to deliver immediate relief when tragedy occurs around the world.
What's new?
Rotary has a new Area of Focus – Supporting the Environment – following a unanimous vote by The Rotary Foundation Trustees and the RI Board of Directors. The Foundation is developing the eligibility criteria for grants in this Area of Focus and will have more information beginning in November. It will start accepting global grant applications focused on the environment on July 1, 2021.
Read stories from this feature: