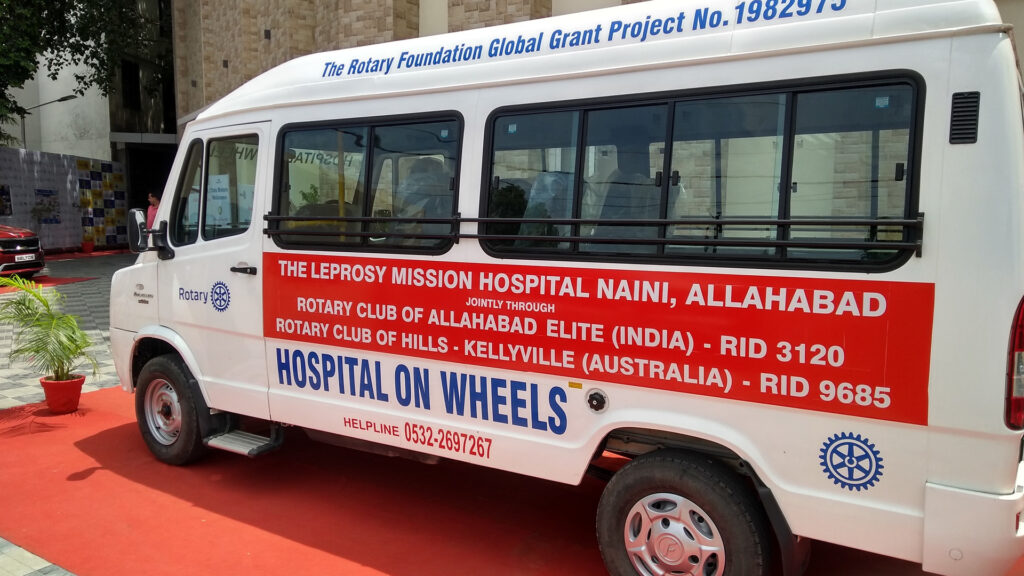 The Rotary clubs of Hills-Kellyville, NSW, and Allahabad Elite, India, have partnered with The Leprosy Mission Hospital, Naini, Prayagraj, Uttar Pradesh, India, to fund a mobile medical clinic for early detection and treatment of leprosy for patients in rural areas of Uttar Pradesh.
In 2005, India declared that it had eliminated leprosy as a public health concern. But a decade after achieving elimination status, India accounted for 60 per cent of the global total of new leprosy cases. In 2017, the Ministry of Health and Family Welfare reported 135,485 new leprosy cases detected
– that's one person diagnosed every four minutes.
It is estimated that almost three million people in India live with leprosy-related deformities.
Multi-drug therapy (MDT) can cure leprosy at any stage, killing 98 per cent of the bacteria in the body with its first dose. It is available for free in India's government hospitals and dispensaries and health activists say the country has enough supply of MDT. However, incorrect and delayed diagnoses, along with stigma, keep patients from accessing medical treatment.
"Patients don't reach out to medical facilities for treatment because of the social stigma associated with leprosy," said International Service Director of the Rotary Club of Hills-Kellyville Haran Ramachandran. "There are a lot of misconceptions around leprosy and a lack of awareness that they should reach out to hospitals when they see initial indications of leprosy."
The mobile health clinic is fitted with all necessary equipment to help in early detection, sample collection, and treatment for patients suffering from leprosy, who can be managed with drug treatment alone. These clinics will be held in high-risk pockets where leprosy is known to be prevalent. Patients diagnosed with leprosy and other ailments will get a domiciliary treatment and can continue with their daily life.
The project will improve the capacity of local health care professionals; promote disease prevention programs to limit the spread of communicable diseases and reduce the incidences of and complications from non-communicable diseases; enhance the health infrastructure of local communities; educate and mobilise communities to help prevent the spread of major diseases; and prevent physical disability resulting from disease or injury.
"The Leprosy Mission Hospital always wanted to reach out to patients who are unable to reach the hospital due to lack of awareness, financial problems or inaccessibility to transportation," said Chief Administrator of The Leprosy Mission Hospital Dr Ruby Marshala.
"To reduce the number of patients suffering deformities from leprosy early diagnosis is essential. Education and awareness are equally important in reducing not just deformities and disability among the patients, but in reducing the new leprosy cases.
"The mobile medical van has a vital role to play. It is not only a source of treatment, but will help us reach out to people in rural areas and educate these people, empowering communities to discern the signs and symptoms of leprosy themselves," Dr Marshala said. "Earlier detection will result in early treatment, which will reduce the risk of spreading the disease."
The mobile hospital was handed over to The Leprosy Mission Hospital in August and has now been put to good use.
This is the third mobile hospital the Rotary Club of Hills-Kellyville has funded in India for communicable and non-communicable diseases.
This project was made possible due to the generous support Rotarians make to our Foundation – The Rotary Foundation.