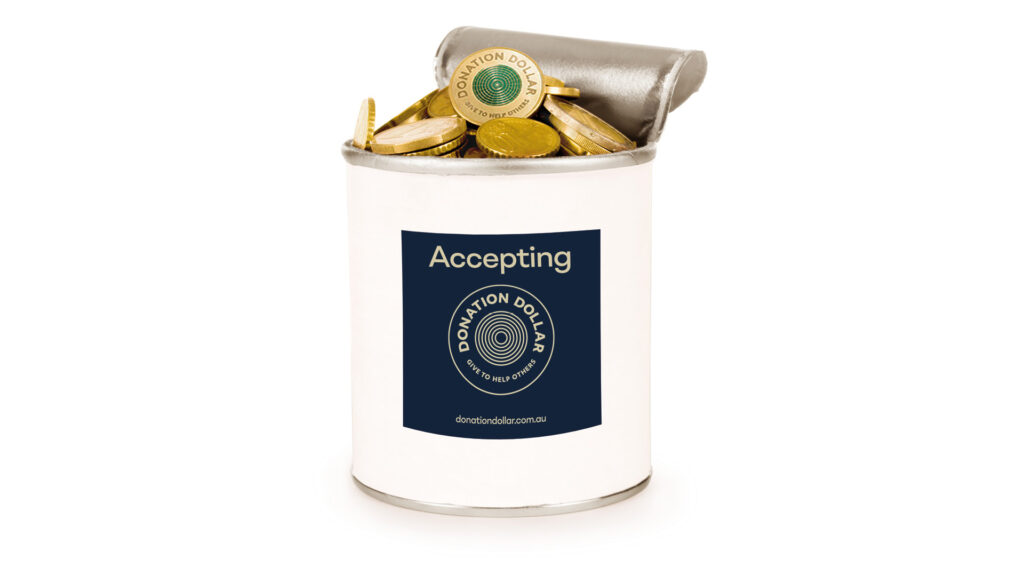 Australia has launched a world first 'Donation Dollar', a single dollar coin designed to be given to those in need.
Wendy Williams
Pro Bono News
The Royal Australian Mint has launched the world's first Donation Dollar – a one-dollar coin designed to be donated – that advocates believe has the potential to deliver millions of dollars in additional funding to the charities sector each year.
Australians can now find one of these coins in their change, with a first run of three million coins released into circulation ahead of International Day of Charity on September 5.
The Mint intends to distribute 25 million of these $1 coins, which are legal tender, over the coming years – one for every Australian.
According to new research, three in five Australians say they would be likely to donate this coin if found in their change.
Advocates hope the Donation Dollar – which features a green centre with a gold ripple design symbolising the ongoing impact each donation makes to those who need it most – will serve as a "daily reminder to give" and could shift thinking on how Australians donate.
Royal Australian Mint CEO, Ross MacDiarmid, said they were extremely proud to introduce the world's first Donation Dollar and tap into the Australian spirit of generosity.
"Like any other one-dollar coin, the cycle of a Donation Dollar is ongoing, as is its potential for positive impact," Ross said.
"If every Australian donated a Donation Dollar just once a month, it has the potential to raise an additional $300 million annually for those who need it most. So, with Australia's support, we believe the Donation Dollar has the power to make a real difference."
The Community Council for Australia (CCA) and the Charities Crisis Cabinet (CCC) have thrown their support behind the initiative, which they say ties in closely with the priority work of CCA and the CCC to support and elevate the value of the charities sector in Australia.
CCA Chair and former World Vision Australia CEO, Tim Costello, said he believed the initiative could make a real difference.
"Our immediate reaction when presented with the Donation Dollar was 'finally, an idea that unites every Australian charity, but also every Australian, in a common good'," Tim said.
"With research showing almost one in five Australians, who don't currently give to charity at all, [saying] the coin would lead to them giving more to charity, there's no doubt in my mind this is a gift that will benefit those who are most vulnerable in our nation, starting now – a time when many need this kind of helping hand the most."
According to new findings in the Australian Generosity Report, one in five Australians say they'll require some degree of charitable aid over the next 12 months, either for themselves or family.
Meanwhile, COVID-19 has also pushed the charity sector to the brink. Recent modelling suggested almost one in five charities could be at risk of financial failure.
Tim said the dollar was coming at the right time.
"Twenty per cent of charities are at risk of going under, right at the time we need them most," he said.
"Everybody is hurting, understandably saying 'I'm not sure I can give', 'I'm not sure what will happen when JobKeeper ends for me', so that means the ripples of distress through the community and the heavy lifting that charities do is getting challenged, so that's why this is good timing."
When asked about how the Donation Dollar fits with the idea of a cashless society after coronavirus, Tim conceded it would have been great for the coin to have been around five years ago when cash and coins were in more use. But he said he still believed it could encourage people, who may typically donate money once a year, or not at all, to think about giving.
"I still think enough people will see the Donation Dollar and say, 'I'll keep that and I'll keep a record, go online and donate when there are 100 or 200 of them, to my charity'. I think that is the message we need to communicate to people, it is a prompt," he said.
He said the attitudinal and behavioural change that could result from the Donation Dollar was significant, with every coin offering a chance to spark new conversations about generosity.
"It might be a small coin, but it will circulate as a constant reminder to give, and that can make a big difference.
"No longer is money just a measurement of economic value, it is now a measure of 'what am I doing with my life?'. It is a unit of compassion and a sense of generosity. I think that is a powerful shift."
This is an edited version of a story that first appeared in Pro Bono News.