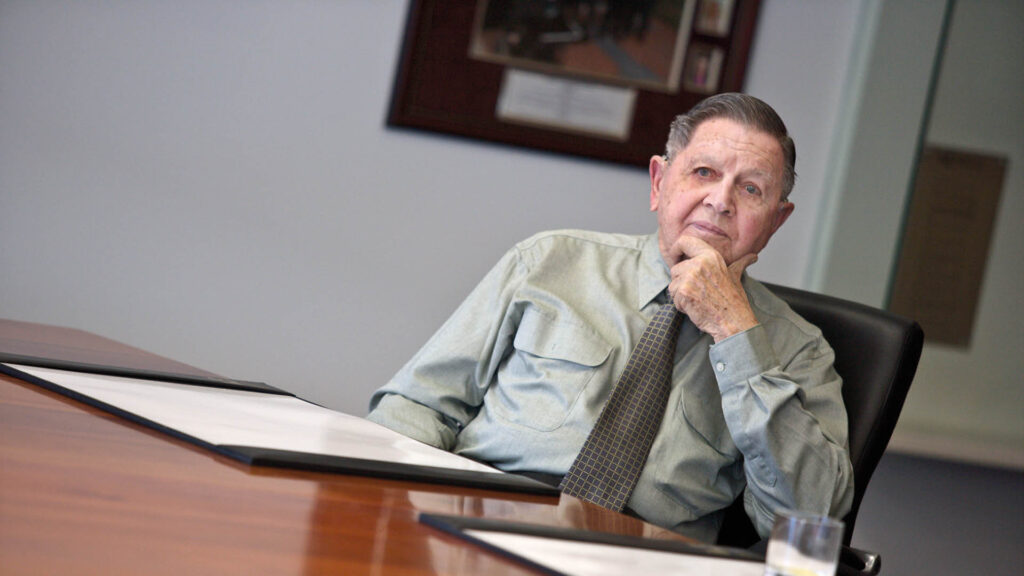 The passing of Rotary International's polio icon Sir Clem Renouf on June 11 has inspired a group of Australian, New Zealand and Oceania Rotary leaders to launch the Sir Clem Renouf Polio Appeal in 2020-21.
Sir Clem was Australia's second president of Rotary International in 1978-79, and three fellow RI presidents, Australia's Glen Kinross (1997-98), New Zealand's Bill Boyd (2006-07) and Australia's Ian Riseley (2017-18) – supported by RI Past Director Noel Trevaskis and RI Director-elect Jessie Harman – recently agreed to commemorate the great man's passing with a significant fundraising campaign. It aims to secure funds in support of Clem's legacy, the End Polio Now campaign.
The advent of the COVID-19 pandemic in 2020 put a hold on the polio eradication campaign, which is just picking up momentum again now. Pakistan recommenced its door-to-door immunisation campaign last month. Fundraising for polio became particularly difficult at the end of the last Rotary year and the End Polio Now campaign just managed to raise the US$50m necessary to qualify for the full Gates Foundation 2:1 subsidy of US$100 million.
The senior leaders team driving the Sir Clem Renouf Polio Appeal includes all regional Rotary Foundation coordinators and their assistants, who will liaise with all district governors for support across Australia and
New Zealand.
Rob Byrne at the RI South Pacific & Philippines office in Parramatta has set up a 'how to donate' document that will be delivered directly to all
Rotary clubs.
World Polio Day on Saturday, October 24, is fast approaching and district governors are urged to encourage all clubs to take part in a special event for the Sir Clem Renouf Polio Appeal.
Being mindful of ongoing COVID-19 restrictions, there is strong support for clubs to hold a virtual 'dinner', with members donating their normal meal fee to the campaign. Such action will also address the challenge of increasing personal donations towards the polio campaign.
Brief video messages from senior leaders Bill Boyd, Ian Riseley, Noel Trevaskis and Jessie Harman are available from RDU General Manager Gay Kiddle for program content at such virtual dinners.
World Polio Day resources are also available from Rotary International – visit www.endpol.io/wpd or www.endpol.io/entkt for a downloadable toolkit.
There is a myriad of innovative projects across Rotary's Zone 8 region planned for October and the income can all be channelled towards polio via the Sir Clem Renouf Appeal:
Ride the Train for Polio – Friday, October 23 – with allowances for COVID-19.
Various Walk for Polio projects around Australia and New Zealand.
Lawn Bowls for Polio – club challenges to support President Holger Knaack's club collaboration goal, while observing COVID-19 requirements.