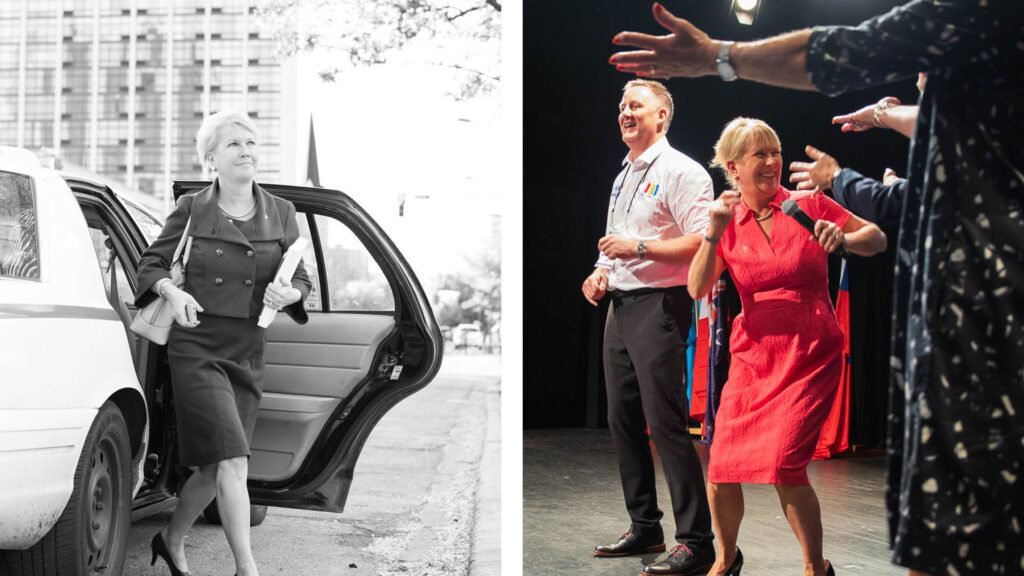 The inspiring Jennifer Jones, a member of the Rotary Club of Windsor-Roseland, Canada, has been nominated to become RI president for 2022-23, a selection that will make her the first female to hold this office in Rotary's
115-year history.
This is a ground-breaking development for Rotary, a traditionally male organisation, which did not permit women members until 1987. It took nine years of controversy before the constitution was changed to allow women to join. Today, there are still all-male clubs in some parts of the globe.
As the first woman nominated to be RI president, Jennifer knows how important it is to continue and promote Rotary's Diversity, Equity, and Inclusion (DEI) Statement.
"I believe that diversity, equity, and inclusion begins at the top and for us to realise growth in female membership and members under the age of 40, these demographics need to see their own reflection in leadership," Jennifer said. "I will champion double-digit growth in both categories, while never losing sight of our entire family."
Jennifer has long been a trailblazer for women in Rotary, and in a prophetic Q&A at the 2020 South Pacific Presidents' Elect Training Seminar (SPPETS), held in Auckland, NZ, earlier this year, she told the audience she sincerely believed we would see a woman take on the position of RI president very soon.
"But it's not because we are checking a box," she cautioned. "It's got to be because it's the right person at the right time to move our organisation forward." And we sure believe she is!
In an interview with Windsor Star following her nomination, Jennifer reiterated her sentiments.
"I am incredibly proud to be taking on this role, but I think it's important to note that I was selected as a qualified candidate, not because of my gender."
She emphasised that many women are qualified to take on the role, but must have served in a number of other positions first.
"We're just at the point where we have a very small, critical mass of women who have been able to accomplish serving in those different roles," she said.
"It is a remarkable step forward in history because it represents diverse perspective and I think any organisation looking to have balanced thought needs to have diverse perspective. This is a sign of very positive change."
But who is Jennifer E Jones? Well, this genetically blessed woman was born in 1967 and joined Rotary at just 30 years of age. She is married to Dr Nick Krayacich, a GP in Windsor, and they are both members of Rotary; Jennifer in the Rotary Club of Windsor-Roseland and Nick is a past president of the Rotary Club of LaSalle.
Jennifer holds a Bachelor of Arts Degree in Communication and Media Studies and is president of Media Street Productions Incorporated, a media company she founded 25 years ago.
In 1997, a friend who was general manager of a cable company invited her to attend a Rotary meeting. She described her visit by saying, "I had covered Rotary as a young reporter when it was still a 'men's club'. So, I wasn't really sure what to expect." But she went along and "when I walked in, I felt like I had arrived home!"
With a membership of 37 at the time, the club grew to 65 within her first year of joining, including 39 females, and Jennifer served as club president in 2001. She went on to serve as governor of District 6400 in 2007-08 and vice president of Rotary International in 2016-17. She will officially become RI president-nominee on October 1, 2020, if no other candidates challenge her.
Jennifer has also served as a training leader, moderator, committee vice-chair, coordinator and the president's representative for Rotary. She played a lead role in Rotary's rebranding effort as the chair of the Strengthening Rotary's Advisory Group and is the co-chair of the End Polio Now – Make History Today Campaign Committee, which aims to raise $150 million for polio eradication efforts. She was also the promotions chair for the 2019 Rotary International Convention in Hamburg, Germany.
In May 2020, this dynamic innovator led the successful #RotaryResponds telethon, which reached 65,000 people and raised US$529,326 for Rotary's response to COVID-19.
Jennifer is one of RI's most recognised communicators and has travelled widely to promote Rotary. She and Nick are both champions of The Rotary Foundation, members of the Arch Klumph Society, the Paul Harris Society and are charter members of the Bequest Society.
As well as their work and Rotary commitments, Jennifer and Nick enjoy travelling, golf, cycling and relaxing at their family cottage. They relish adventure and, in January 2009, climbed to the summit of Mount Kilimanjaro in Tanzania, Africa, an accomplishment of which Nick told the SPPETS audience earlier this year, "I'll never climb another mountain because that mountain tried to kill me!"
Jennifer's entire family is active in Rotary. Her mother Joyce is a past president of the Rotary Club of Windsor-Roseland and her sister-in-law Stacey is the immediate past president of the Rotary Club of Kingsville, Southshore, Ontario, where her brother David is the current president. Her father John is a member of the Rotary Club of LaSalle Centennial.
Bravo Jennifer! Take a bow. You are a trailblazer and have made Rotary's future look a whole lot brighter.