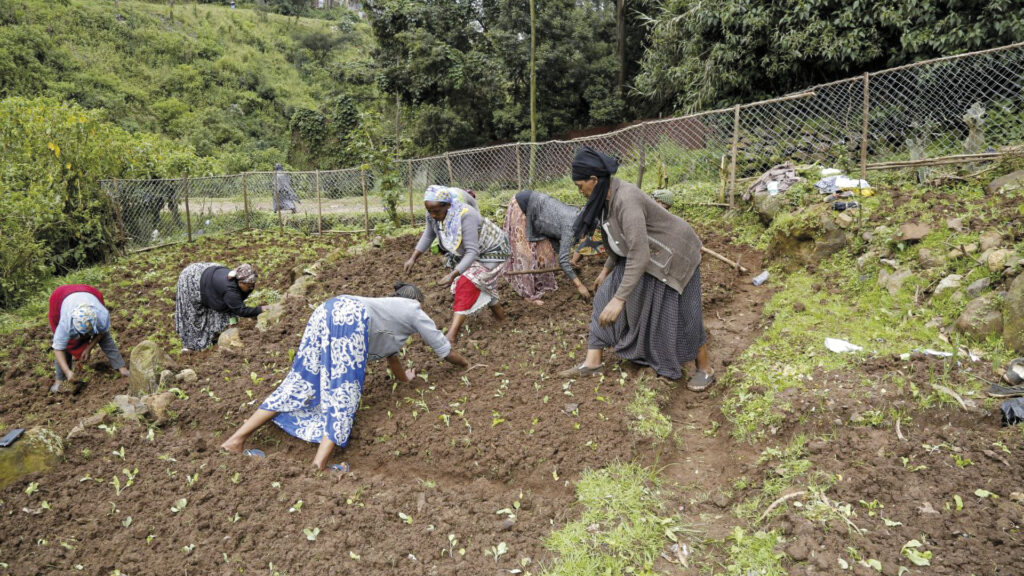 Tasmanian agricultural scientist and Officer of the Order of Australia recipient, Bruce French, has spent over 50 years on a voluntary mission to document information on all the food plants of the world.
Bruce has established a database of more than 32,000 edible plants, which continues to grow. The database contains descriptions, countries and climatic zones of the plants' origins, photos, edible parts, and cooking methods. Nutritional information is available for a selection of these plants. All information in the database can be reproduced in a number of formats including CD, DVD, books and PowerPoint presentations.
In 2007, Buz Green, of the Rotary Club of Devonport North, Tas, developed a relationship between the organisation behind the database, Food Plants International, and Rotary to establish the Food Plant Solutions project.
Since then, the Food Plant Solutions Rotary Action Group committee, along with other volunteers, have transformed Food Plant Solutions Rotary Action Group from a concept into a dynamic international project. The significance of their work being recognised by peers throughout the world.
A brief garden guide for the Solomons
Solomon Islands has the second highest terrestrial biodiversity of anywhere in the Pacific, with over 300 different species of edible plants. More than 80 per cent of Solomon Islanders live in rural areas, where most of the food supply comes from subsistence gardens and from the sea.
Despite its bounty of native food plants, however, good information about these plants often remains in the minds of local farmers and has not been documented for future generations.
Knowledge of how these plants are grown, how they can be used, and their nutritional value is vital to the health and wealth of island communities, yet local foods are often considered sub-par to 'exotic' foods from other countries.
However, many introduced food plants, such as the round or ball-headed cabbages, have little food value. Many of the local green, leafy vegetables and ferns have 10 to 20 times as much food value as these cabbages. Citrus fruits, such as lemons and oranges, are often grown for vitamin C, but these fruits do not grow well in the tropics, and the common local guava fruit has three times as much vitamin C.
Through the support of the Rotary Club of Deloraine, Tas, and a district grant, Food Plant Solutions is currently in the process of printing a Brief Guide to Solomon Islands.
The guide lists 15 edible local plants; three for each of the major food groups. Information on how to grow the plant, how it can be used, and its nutritional value is also included. The guide will also advise on the key nutrients human bodies need, how they are used by our bodies and links in to the plants selected.
Once printed, over 3000 of these guides will be sent to the Kastom Gaden Association. KGA promotes the growing of indigenous fruits, nuts and leafy vegetables, which are more accessible, nutritious, and better adapted to the local environment.
"Farmers can save their own seeds and planting materials, and can grow local foods plants with less input compared with imported plants," says Food Plant Solutions Executive Officer Karalyn Hingston.
KGA plans to share the guides with partners in their network throughout the nine provinces of Solomon Islands. It has a local network of more than 5000 members including schools (boarding schools and Rural Training Centres (RTCs), ministries (MAL and MHMS), NGOs and farming organisations. KGA intends to use the guide for the training of farming organisations, RTCs, model farms, school gardens, and as a library reference for farmers, researchers and students.
A partnership in nutrition and education
Malnutrition in the first 1000 days of life often has severe and irreversible consequence on the cognitive and physical development of a child. Educating children is fruitless if they are not able to learn and the lack of education locks poor communities into the vicious cycle of poverty.
To this end, Food Plant Solutions Rotary Action Group has partnered with Nutrition 4 Education & Development (N4ED), an Ethiopian non-profit organisation whose mission is to improve children's nutrition and ensure their full cognitive and physical development.
The main goal of the partnership is to increase dietary diversity, which is expected to increase the complementary feeding quality and help reduce different forms of malnutrition.
The project focuses on low-income, peri-urban communities, mostly composed of people who migrate from different parts of Ethiopia in the quest for a better life. Unfortunately, the 'city dream' is not always as successful as hoped and they find themselves struggling in a context that is new to them and far from their families.
N4ED's urban gardening sub-program was planned to start in April 2020 under a larger scope community project but, due to COVID-19, all its community projects were suspended for five months and replaced by special emergency response programs.
One of these included a collaboration with Timret Le Hiwot Ethiopia (TLHE), a local organisation that started a new program with urban gardening activities. The urban gardening program began in June 2020 and reaches 200 underprivileged women. N4ED gives technical support for this program by using the information provided in Food Plant Solutions publications. The publications were used to educate participants on the type of plants available that are most nutritious. They were used during capacity building and awareness training given directly to beneficiaries and were also used to prepare the recommended list of plants for the TLHE project.
Hiwot Amare Getaneh, Co-founder and Executive Director of Nutrition 4 Education & Development has said "Using these guides prepared by Food Plant Solutions: 'Food Plants For Healthy Diets in Ethiopia' we want to show to our beneficiaries how indigenous plants possess all the nutrients needed by their family. By focusing on plants that are known by the community and adapted to the climate, we aim to make it easily adopted by our beneficiaries and increase productivity that will encourage them to pursue in the farming activity. Moreover, we aim to share this material with all partners who wish to work on urban or rural farms so that they can make an informed plant selection."