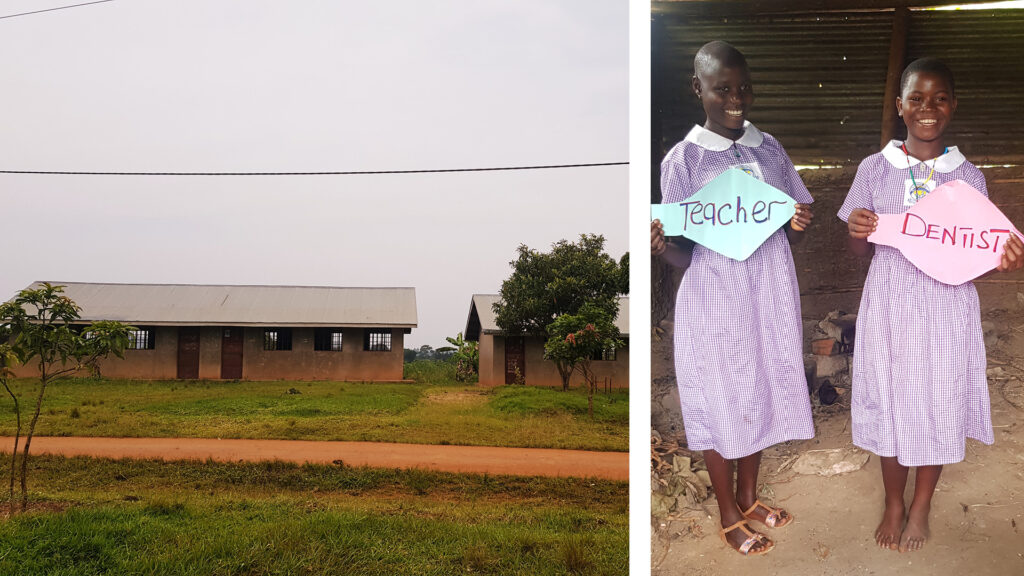 Nancy and Jane (pictured) are pupils at Bujju Primary School, a rural school in Uganda. Like many other children, they both love going to school. The two bright students, both school prefects, were set to sit their primary leaving examinations (exams leading to their transition into secondary school).
However, despite their future aspirations, they had limited means to continue their education and were falling behind.
Most children in Ugandan public schools attend day schools. Parents are responsible for feeding their own children in school, however, getting parents to contribute funds towards school feeding, especially when they are lacking, is a glaring challenge.
Nancy and Jane frequently skipped school for many reasons, including lack of school meal funds. Their irregular attendance meant that chances were high they would miss their final exams.
Rotary Peace Fellow Emily Nabakooza (see the October 2020 edition of Rotary Down Under, pages 24-26), who founded the Assisi Centre for Social Justice and Peace in Kampala, Uganda, is fighting to keep students like Nancy and Jane in school through the centre's School + A Cup of Porridge = Hope initiative.
"As a schoolgirl many years ago, I acquired an education effortlessly through the generosity of many kind people – until I won my first scholarship for my undergraduate degree," Emily explains. "This opportunity led to another educational scholarship in the UK, and many years later, Rotary's most prestigious academic program
in Australia.
"Looking at the situation of these two girls, I knew I wanted the same thing for them and that I would not be here doing what I do today, if I hadn't had the chance to sit for my first basic education national exams.
"I thought to myself, if providing a cup of porridge as a mid-day school meal every day would make a difference, I would have to seek the means to do exactly that. So, I made arrangements on behalf of Assisi Centre to provide school meals to candidate pupils in Bujju Primary School."
The school feeding program is not only helping Nancy, Jane, and their peers attend school regularly, it is also attracting parents in the surrounding communities to send their children to Bujju Primary School.
Nancy and Jane have since obtained scores that will allow them to register for their final exams.
The assistance the program offers to Bujju Primary School and other rural schools – approximately 3000 students to date – has a multiplier effect that is very visible and significant.
"With just one cup of porridge every day for a school child, we are indirectly helping reduce the socio-economic and educational constraints of many disadvantaged children," Emily said.
"Our dedicated team of qualified volunteers work under challenging conditions, but the beautiful outcome of our efforts is what keeps us going. Our humble change stories have led to a partnership between Assisi Centre and an institute in Sorrento, Italy, that will see one of its students conduct a virtual internship with us on a topic related to 'The consequences of COVID-19 on Uganda's education sector'."
The nature of these rural schools is that they are located in hard-to-reach areas, making movement to and from the schools extremely challenging.
"Our trips to these communities are long and can be exhausting, first because of the nature of the geographical terrain and also because we lack a private vehicle," Emily said. "Consequently, the process involves moving from one public vehicle to another.
"The Rotary community has an outstanding human touch, with the highest level of understanding and assistance to the disadvantaged. We are incredibly grateful for the support we have received so far."