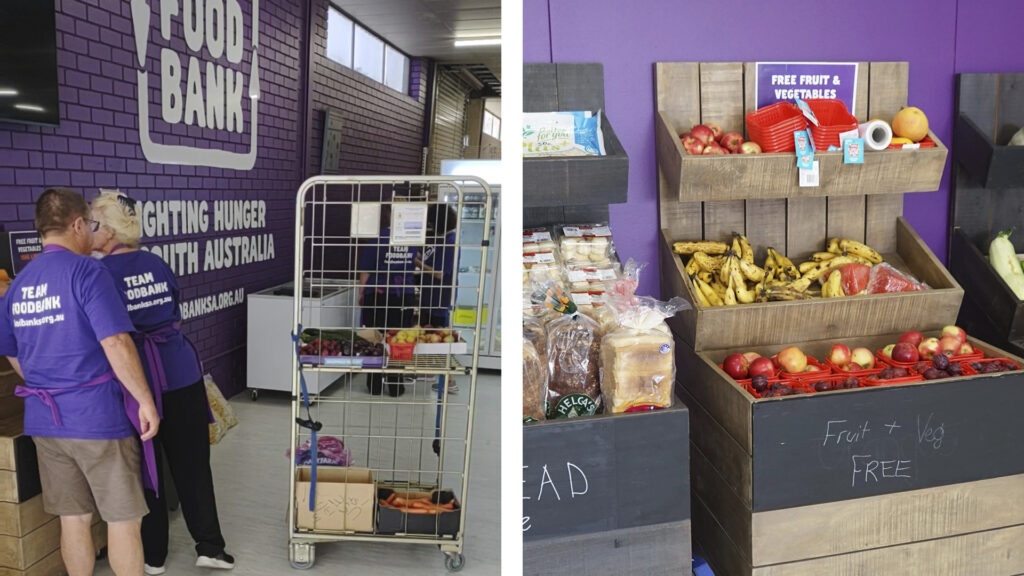 When you are a mother feeding a family of 11, a 5kg bag of potatoes doesn't go very far.
PDG Wendy Gaborit OAM recognised that Murray Bridge, SA, and its drought-stricken rural environs had a hunger problem in its community. Children were turning up for school without breakfast and there were ever increasing requests to agencies for emergency vouchers for food.
Last year Wendy approached Foodbank to see what needed to be done to set up a distribution point in Murray Bridge. Foodbank SA was piloting a new concept of direct sales to the public through Food Hubs, and suggested if she could raise $100,000, Foodbank would establish a Food Hub in Murray Bridge. Wendy's club, the Rotary Club of Mobilong, SA, took the lead in this challenge and was joined by the other two clubs – Murray Bridge and Tailem Bend. The clubs raised close to half the funds and were helped by a large anonymous donation and generous support from BHP. The Rural City of Murray Bridge also provided in-kind support.
A property in a prime position on the main road leading to the rural city was leased, renovated, and commissioned earlier this year. It is managed by a paid officer and staffed by eight to 10 volunteers per day, many of whom are local Rotarians. The Hub is open five days a week.
The Food Hub concept allows authorised clients to purchase weekly supplies of food up to pre-allocated limits on their debit cards. Agencies transfer funds to the cards according to need each week. Fruit and vegetables up to a 15kg limit are provided free, as is bread. All other food and beverage supplies are sold at heavily discounted prices. The emphasis is always on healthy food. This season in SA there has been an outbreak of fruit fly and it has been difficult for the Foodbank to transport fruit. A call was made to gardeners in Murray Bridge to donate their excess fruit to the Food Hub. There was a magnificent response, including from Rotarian gardeners, and most of the supplies in the shop this season are coming from home gardens.
The customers from Murray Bridge are all on some form of income support. The rural customers come from small towns where they enjoy affordable rental accommodation or are families in distress as victims of bushfire or drought. It is not unusual for these customers' homes to be up to 100km from Murray Bridge. Mental illness is a major cause of poverty and hunger and these people get much needed support from the volunteers. Because the Food Hub is on the outskirts of town the free community bus has now located a stop outside.
The Breakfast for Schools program has transferred to the Food Hub and 75 boxes of food as well as 75 bags of fruit and vegetables are supplied to Murray Bridge and rural schools each day.
The Food Hub is proving to be highly successful. It is already the largest in the state. A van is being purchased in April to cope with the ever-increasing locally sourced supplies and a commercial kitchen is to be established to provide pre-cooked meal packs.
COVID-19 has delayed the official opening, but it is expected soon.