The Rotary Peace, Remembrance, Community and Forest Park was born out of a major disaster – the 2011 earthquakes, which devasted large tracts of land and displaced large parts of the Christchurch population.
This area is known as the Dallington Loop and has the Avon River running alongside it. The City Council designated this area to be known as the green spine site due to its ecological significance.
As part of the 2021 Rotary centenary celebrations in New Zealand, the Rotary Club of Wellington applied to Te Uru Rakau for funding to support the aims of this centenary project and was successful in gaining funding to plant 220,000 native plants over two seasons.
The Rotary Peace, Remembrance and Community Forest Trust was set up to administer the grant. The Trust funds up to 45 per cent of the cost, and Conservation Volunteers NZ, along with the Trust, act as project managers.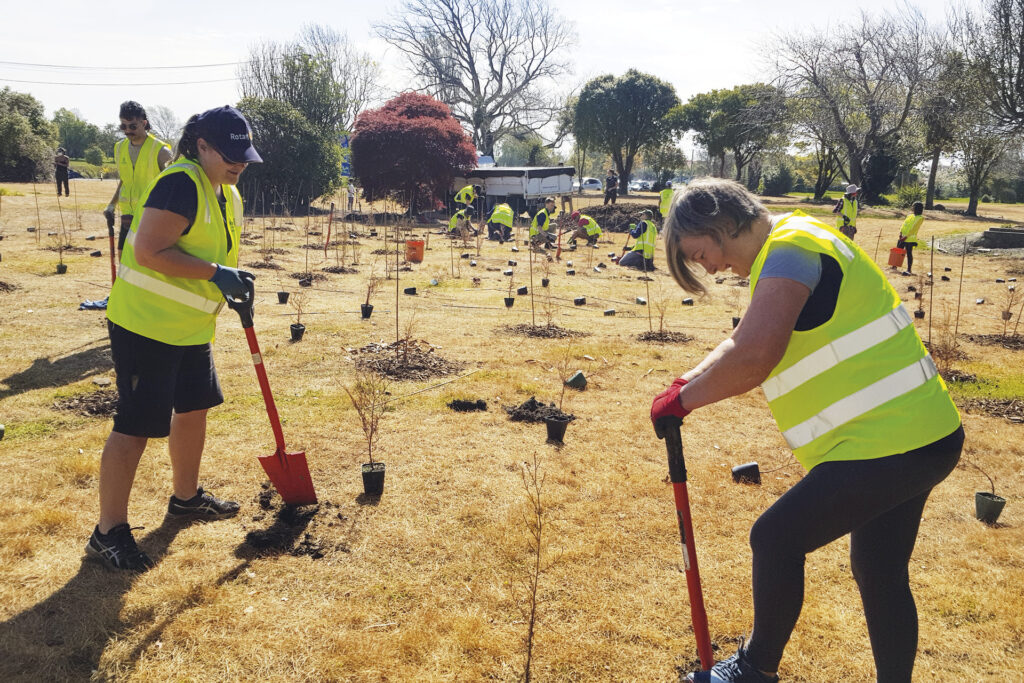 The Trust is currently funding 12 project sites from North Auckland to Otago, involving the 220,000 plants; the Dallington landing site in the green spine being the flagship site for the Trust, with its significance to the social, cultural and ecological fabric of Christchurch. It epitomises what the Trust is all about – peace, remembrance and community. Something Christchurch certainly identifies with after experiencing the devastation of the 2011 earthquakes and 2019 mosque shootings.
The Trust is supporting the planting of 42,000 trees on this site.
On August 7, 2021, many Rotary clubs joined District Governor Nick Courtney, Conservation Volunteers NZ, and people from the local community to plant 2,500 trees in 90 minutes! This planting has now been tripled with subsequent community planting days.
PDG Liz Courtney said the benefits of this project are huge.
"Rotary has been given visibility in the local community and on social media," Liz said.
"By working alongside Conservation Volunteers NZ, it has also given Rotary other small projects, for example a recent beach clean-up, the Papanui Bush renewal, and highlighted other planting opportunities we can work on together in Christchurch.
"It has shown the public that Rotary is not just made up of men, but women and families all keen to work together. This project is leaving a Rotary legacy in Christchurch, one the whole community can enjoy, and our Rotary name is on all the signage.
"It is also the basis for a cause based Rotary group to emerge, which especially interests younger and more energetic Rotarians as well as an emerging group of Rotaractors in the city. It also gives working members the opportunity to volunteer on a project over a weekend which at times is missing in our club calendars. It keeps them engaged.
"As RI President Shekar Mehta said, offering new club models is the way of the future."