Photos: @rhysmartinphotographer
A collaboration between Rotary International, Rotary International South Pacific and Philippines Office (RISPPO), and Rotary Down Under has seen the recently chartered Rotary Club of Koala Lovers, Qld, take centre stage in a new public image campaign by RI.
Aimed at highlighting contemporary Rotary projects in areas that have not often been covered by RI, six engaging projects were selected from clubs across the globe.
On a sunny November morning, Rotary Down Under Creative Director and Photographer Rhys Martin and Editor Meagan Martin joined President of the Rotary Club of Koala Lovers Zac Revere, members Lydia Brown and Jonathan Woodward, and Currumbin Wildlife Sanctuary Media Liaison Nancy Ruscitti, at the Sanctuary's koala enclosure to capture these cuddly Aussie icons and showcase the great work the action-oriented, environmentally focused club is doing to help save our vulnerable bush ambassadors.
The club works closely with Currumbin Wildlife Sanctuary on the Gold Coast to raise funds for medical equipment, with a long-term project focused on koala vaccinations.
After several briefings with RI Photographer and Multimedia Producer Monika Lozinska to brainstorm creative approaches and ensure RI's branding standards were met, the intrepid team stepped 'into the wild' with handler Jessica Grant for a gruelling session of koala cuddles and 'bear' hugs. And the attentive talent sure turned it on!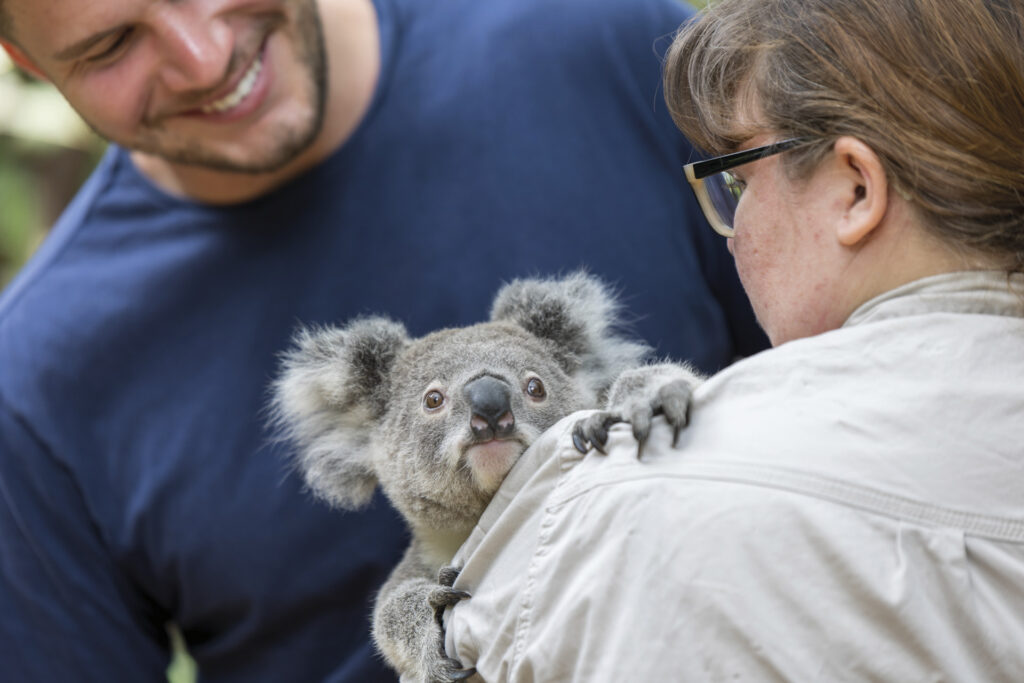 "It was an honour to be selected by RI to be part of this campaign and showcase to the world one of Rotary's awesome new cause-based clubs," Rhys said.
"Luckily the talent on hand was cute as heck, although rather difficult to make smile," he joked.
The images have been added to Rotary International's photo library and will be used in promotional materials showcasing the diversity of our clubs and the breadth of our work.
"Visual Media took a new approach to building Rotary's photo library last year," Monika said.
"We partnered with several International Offices and ended up with six projects that have been added to our photo library, the Koala Lovers Club being one of them.
"The images cover Rotary's new area of focus – Protecting the Environment – and will be used for various publications, both print and online, for our social media, and in promotional materials for the RI Convention in Melbourne in 2023."
Any clubs or Rotarians can request the Images from the RI Heritage Department. Email history@rotary.org.
People of Action in Focus
Five other Rotary projects from across the globe were selected to feature in Rotary International's new public image campaign.

Plant Roses Save Bees Project, France
Members of the Rotary Club of Libourne Saint-Émilion, France, planted rose bushes at Chateau Grand Corbin Manuel in Saint-Émilion. Clubs and districts in France participated in a one-day planting project. 

Funds raised from the sale of the rose bushes will be used to build bee houses that will be offered to local governments and schools. The honey harvested from the beehives will be donated to food banks in France.

Food Service Project, Korea
The Rotary Club of Chuncheon-Sehwa, Gangwon, Korea, prepared and delivered meals to the homes of people who are unable to cook or who would otherwise spend Chuseok, an autumn harvest festival holiday, alone.

Food Service Project, Brazil
The Rotary Club of São Paulo Aeroporto supports Recanto de Interlagos, a social organisation that helps vulnerable people in São Paulo, Brazil. Rotary members volunteer each Saturday to provide food service and organise donations of personal items and equipment for vocational training courses.

Project Walk Again, India
Project Walk Again offers free artificial limbs to amputees in southern India through a manufacturing centre and mobile unit. Led by the Rotary Club of Coimbatore Mid-Town, Tamil Nadu, India, the project has produced more than 18,000 limbs since 1990.

Building a 401-bed hospital in 45 days, India
Rotary clubs in Erode, Tamil Nadu, India, raised money in May 2021 to build a 401-bed hospital in just 45 days during a surge of COVID-19 cases. The hospital is equipped with oxygen supplies, 58 intensive care unit beds, and 58 dialysis beds. It was handed over to Government Erode Medical College Hospital in July 2021. The project was also funded by a global grant.