The Rotary Clubs of Grafton and Grafton Midday, NSW, have been hard at work helping to furnish the new parklands between the Grafton bridges.
The clubs combined to purchase and arrange the installation of park furniture at the parklands created between the old and new Grafton bridges on the northern bank of the Clarence River. The parkland was made possible by the NSW Government, which built the new bridge.
President of the Rotary Club of Grafton Midday Robert Blanchard said that during the bridge opening day they identified a need to see how Rotary could help make the parkland more usable for the many families and individuals who use the walkways and cycleways provided as part of the bridge build.
"We also envisaged the area being used for future public gatherings," Robert said. "The Rotary Club of Grafton offered their support to make it a combined project and we are all delighted to see the new parkland being made more attractive to park users."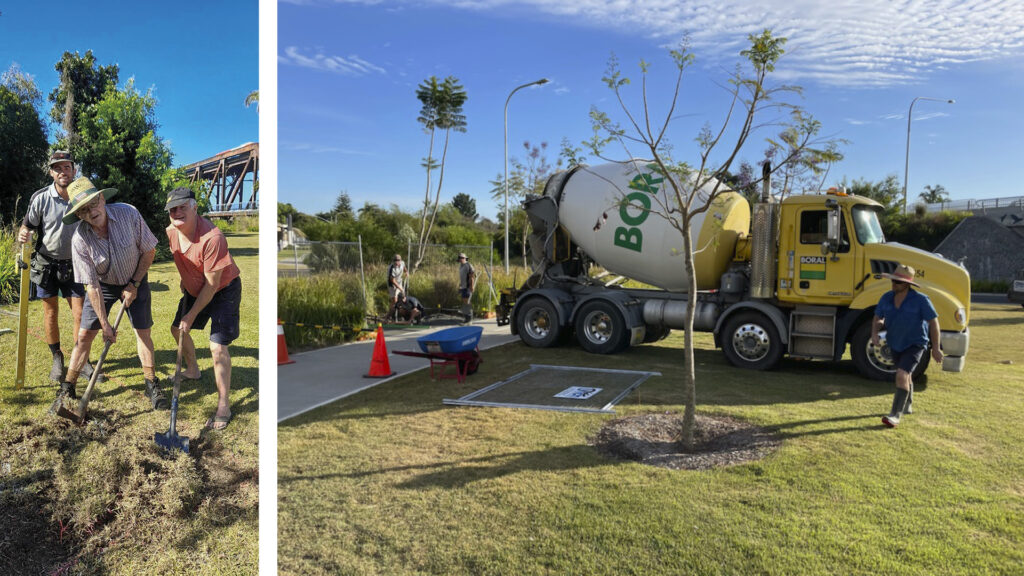 Project leader Lee Taylor, of the Rotary Club of Grafton Midday, and Immediate Past President of the Rotary Club of Grafton Chris Wheelahan wrote grant applications and, together with Midday Secretary Greg Butcher and PDG Peter Robinson, led the liaison with Clarence Valley Council.
"We succeeded with grants of $15,000 from the NSW Government Community Building Program and $11,460 from The Rotary Foundation," said Lee. "Any shortfall on the project came from the charity accounts held by both Rotary clubs."
"The project provided an ideal opportunity for the Rotary Clubs of Grafton and Grafton Midday to band together for the benefit of the community we serve," said Chris.
The furniture, which includes a table and seat set, four park benches, two bins and a bike rack, was installed by builder Peter Lynch and his crew on October 5, 2021. Clarence Valley Council's Open Spaces Coordinator Dave Sutton guided the location and selection of furniture suppliers.
Warren Steele of DRA Architects developed the location plan as a community service, Blanchard Haulage happily donated the freight from the furniture manufacturers, and a generous contribution by Boral allowed for extra seating to be included.