Rotary clubs and districts embraced the concept of World Polio Month in October, with thousands of urgently needed dollars pouring into END POLIO NOW accounts throughout Australia and New Zealand.
By PDG Bob Aitken AM
RI End Polio Now Coordinator, Zone 8, 2018-23
Regional Rotary Foundation Coordinator Peter Garnett convened a zoom meeting of Assistant Regional Rotary Foundation Coordinators on October 10 to share the ideas and, even at that early stage, indications were clear that fundraising would be extremely successful.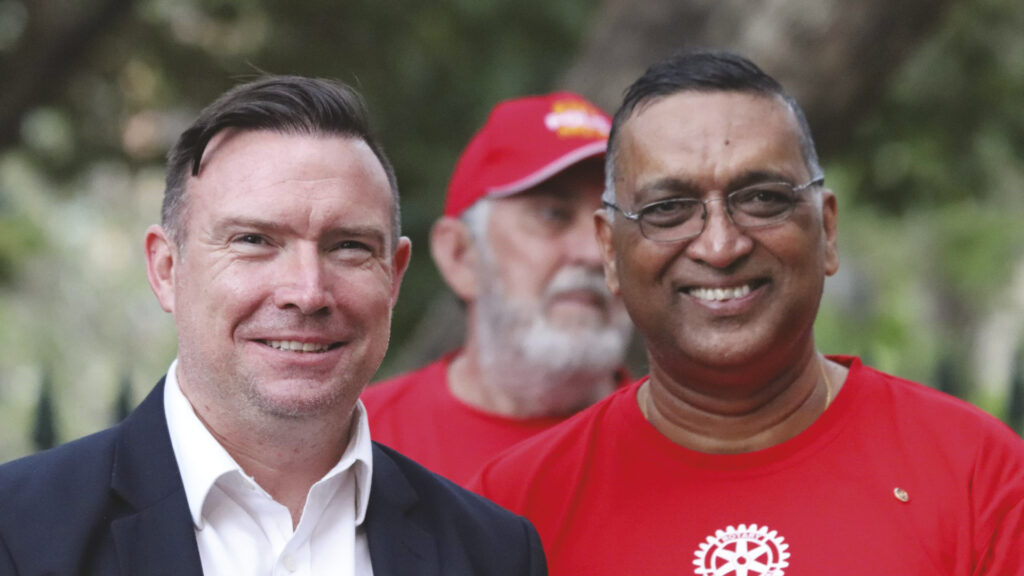 Take time to read the following and you will agree there is no shortage of fundraising ideas in Rotary International Zone 8:
Although a couple of the popular 'Ride the Train for Polio' events in Australia and New Zealand were deferred to February 2022, District 9640 roared ahead with the Gold Coast All Stations Challenge on October 22 – and maximised Rotary's public image by staging the event during morning peak hour!
The big mover this year was District 9800's #walkwithus campaign which, at the time of press, had attracted 354 participants across 11 districts who walked a total distance of 11,650km. The month-long campaign challenged participants to walk, run or roll 10, 20 or 50km and raise vital funds for polio. More than $91,000 has been raised to date.
Six NZ districts committed to a unique shopping campaign with The Good Sell to raise $15,000 for polio. Check out www.thegoodsell.co.nz and support the campaign.
The Rotary Club of Beecroft in District 9685 organised an auction for the first haircut after lockdown. Last report indicated over $1000 had been bid.
The Rotary Club of Hawthorn in District 9800 placed an optional donation button via Try Booking for their meeting registration and averaged an extra $500 per meeting. Other clubs use QR codes on the meeting screen with great success.
Many clubs indicated they have picked up the Clem Renouf/Bill Boyd End Polio Now Club concept with members donating $10 per year.
Several NZ clubs had success with fun trivia nights on Zoom.
The Rotary Club of Woodend in District 9800 has developed a wonderful earner with the production of a monthly news magazine for which members sell advertising and write editorial.
The good news from District 9510 was that the successful Polio Ute journey through outback Australia was ready to 'take off' again in October, fundraising from various clubs along the route.
Finally, District Polio Chairs will derive great value from following the lead of Michelle Tanner in District 9930, who recently produced a powerful media release to promote World Polio Day on October 24. She provided background to Rotary's greatest humanitarian project and added inspirational quotes from TRF Chairman John Germ and District Governor Ross Pinkham, including "Polio vaccines have prevented around 10 million deaths from the disease since 1993".
The release was highlighted with two colourful images of district members at work on National Immunisation Days in India.
Polio Month may have come and gone, but it's not too late to follow Michelle's lead for pure promotion of our End Polio Now campaign. Governors seeking a copy of her release may contact her in NZ on 0277 225 588 or d9930polioplus@gmail.com.
As our Rotary year continues, clubs are encouraged to plan a special guest speaker night, highlighting the announcement of the club's annual gift of US$1500 to polio – in accord with President Shekhar Mehta's goals for the year. Guest speakers such as Jessie Harman, Ian Riseley, Bill Boyd, Stuart Heal, Noel Trevaskis and even yours truly are only a phone call away! Members can add to their annual polio fundraising by donating the cost of their virtual meal to polio!