The Rotary Club of Port Macquarie West, NSW, recently celebrated an incredible milestone in the organisation's 50-year history: raising more than $100,000 from its Hundred Thousand Million recycling project.
It's now three years since the launch of the Hundred Thousand Million project, after the club saw an opportunity to raise money through the New South Wales State Government's Container Deposit Scheme. The scheme gives 10 cents per used can, glass and plastic bottle collected for recycling at the Return and Earn machines and drop-off points in Port Macquarie.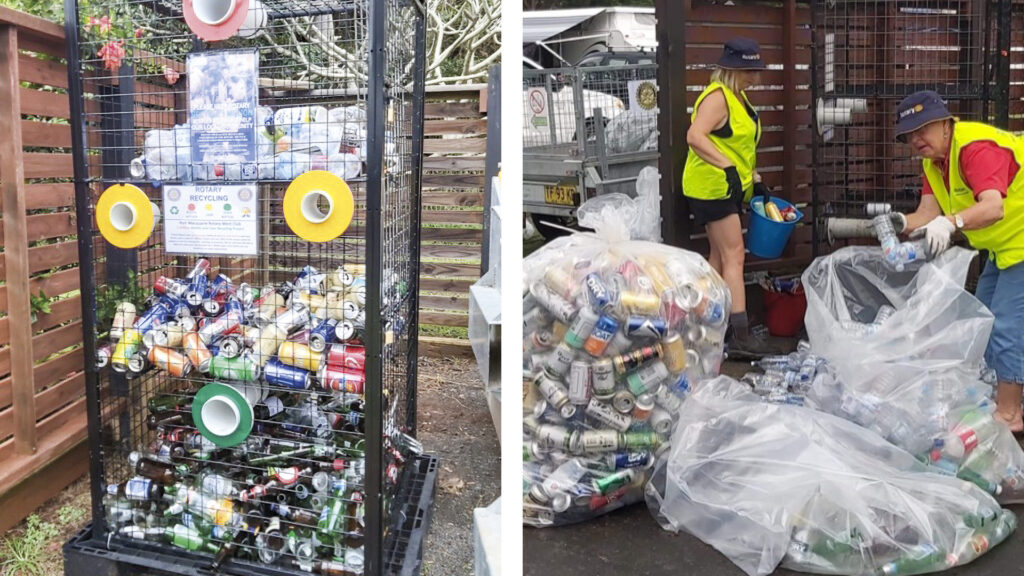 Traditionally, the Rotary Club of Port Macquarie West was well known for its six week-long Christmas raffle through Bunnings Warehouse and the local shopping centre. However, community enthusiasm for the raffle had become almost a thing of the past, making it more challenging to fundraise.
Seizing on the new recycling concept, Rotarians devised a plan to collect used bottles and cans by establishing local business connections at hospitality venues, entertainment providers, friends and neighbours from all around the community for that valuable 10-cent item.
The project quickly gained momentum, with Rotarians forming teams for weekly collections from the various businesses, often gloving up to sort through recycling bins for that soft drink can at the very bottom.
Other businesses and friends also joined in to support the project by assisting Rotary in the sorting of waste for collection. Rotarians limited in their capacity to collect during the week would often dedicate a couple of hours over the weekend to sorting, bagging and tagging.
It was by no means a glamorous job, but the rewards were well worth the effort. In just under five months, the Hundred Thousand Million project had exceeded all expectations, raising more than $10,000 through the simple act of removing recyclable waste from the bins or countryside.
What's more, the project complements Rotary's newest Area of Focus, the environment, turning trash into something beneficial for the many community groups that have now benefited from the funds raised over the past three years.
"Rotary International has seven core focuses, one of which is protecting our natural environment through strengthening conservation and advancing ecological sustainability," club President Steven Towle said.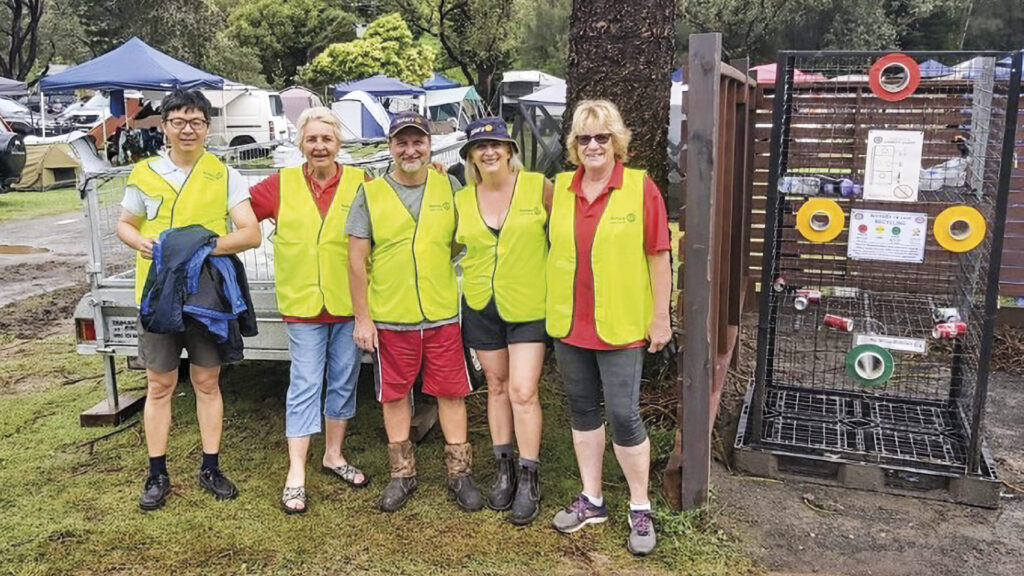 "Our Hundred Thousand Million project ticks this box by ensuring these waste materials are 100 per cent recycled and do not end up in landfill or in our pristine waterways."
Some of the beneficiaries and projects funded over the past three years have been Endeavour Mental Health Recovery Clubhouse; Port Macquarie Soldier On; Dementia Friendly Community Alliance; Sailability Port Macquarie; Hastings Secondary College Westport Campus; YP Space MNC; Manilla/Barraba Drought Assistance; Smiley Scope MNCLHD; OzHarvest Port Macquarie, and more.
"It's remarkable the things you can learn from each other through a hands-on project – one of the benefits of Rotary fellowship," Steven said.
"This combination of skill sets saw designs of lockable and sortable collection cages come to life, which were installed in the local caravan park. In the future, the club hopes to install similar collection bins in local high schools to assist with Rotary fundraising and educational programs."
And while the club may have reached its target of one million cans and bottles recycled, it doesn't end here. Members already have ambitions of increasing the collection points and expanding their manpower to meet new goals of supporting the community.
"It's been a great way to get Rotary visible in our region and for people to see that we care about the environment and will do what we can, when we can, to make a difference," Steven said. "Even if it means rolling our sleeves up and gloving up to sort trash into treasure."
The Rotary Club of Port Macquarie West thanks the following major donors, who allow members to raid their bins on a weekly or fortnightly basis: NRMA Port Macquarie Breakwall Holiday Park; Panthers Port Macquarie; Settlers Inn Hotel; Abundance Nursery Experience Café and Garden Centre; Club North Haven; Telegraph Point Service Station; Sailability; Endeavour Mental Health Recovery Clubhouse; Beaches Holiday Apartments; Belleview Gardens; Jordans Boating Centre & Holiday Park, and Touch Football.