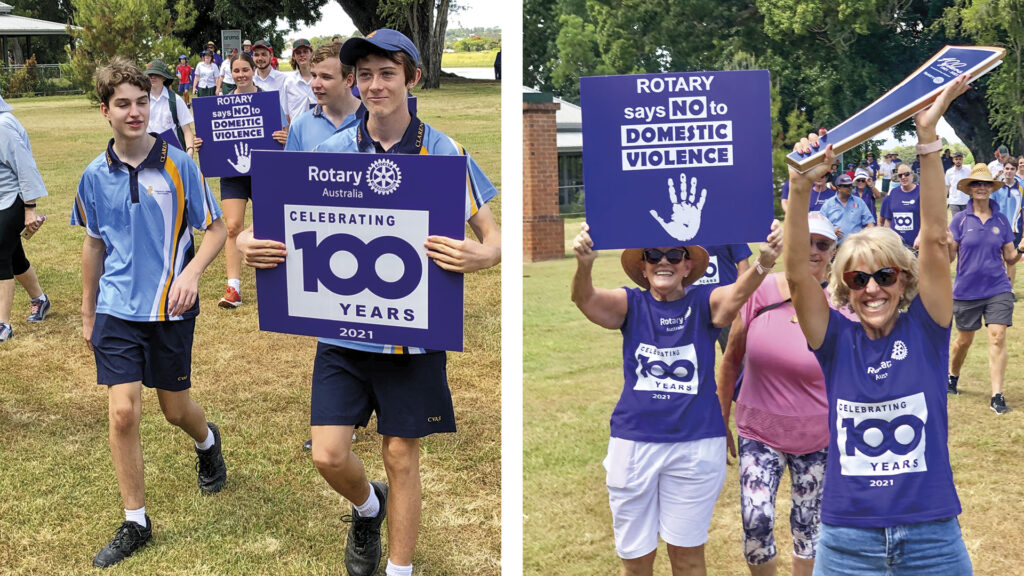 The Rotary 100 Down Under Baton Relay was ceremonially launched in District 9640 on February 5, with the catch cry 'Rotary says No to Domestic Violence'.
The relay with a cause was launched by District Governor Andy Rajapakse in Grafton, NSW, and Immediate Past District Governor Harry Bolton in Goondiwindi, Qld.
Rotarians from the three Rotary clubs in the Grafton and Maclean area came together to march across the two Grafton bridges, led by Lord Mayor of The Clarence Valley Jim Symmons, DG Andy and District Governor Nominee Designate (DGND) David Harmon. They were joined by 100 community leaders, school students, teachers, local government leaders, community organisations and the media. The specially designed purple T-shirts attracted much public and
media attention.
"Celebrating the great work Rotary has done over the past 100 years in Australia gave us the opportunity to have a presence and speak out on a huge problem inside many Australian homes and in our neighbourhoods," said Deputy District Public Image Chair Jodie Shelly, who designed the purple T-shirts. "Through this relay with a cause, our Rotary district is sending a strong message to the community that we stand united against domestic and family violence to 'End the Silence and Stop the Violence'," said Jodie.
"It was amazing to see how many strangers from the community joined our Rotarians to walk together to 'Say No to Domestic Violence', and the media was all over us asking for interviews and learning more about Rotary," said Assistant Governor Anne Farrell.
"As a result of our relay with a cause, more people were impressed with local Rotarians as they connected with the cause and have expressed interest in joining Rotary," said President of the Rotary Club of Grafton Midday, Robert Blanchard, whose club has attracted five new members in the past seven months. "They see us as a relevant organisation in their community. The relay has also created a new enthusiasm among our existing members to go out to the streets and engage with the community."
"The two centenary baton relays will travel to 46 towns and cities in District 9640 over 100 days, with events organised by the 57 clubs. Creative events include walks, bike rides, car rallies, ferry rides, Gondola rides, tram rides, train rides, days at Dream World, Movie World and Outback Spectacular, visits to hospitals and even a chapel to attract maximum public participation and attention for Rotary and our relay with a cause," said President of the Rotary Club of Coomera Valley, Tony Lines, who is coordinating the relay with the 25 Rotary clubs in the Gold Coast City Council area.
The baton relay ends on May 15 at the opening of the District 9640 Conference in Tweed Heads, NSW, in the presence of 600 attendees.
"It all started in November 2019, when the Rotary Club of Ballina-on-Richmond, NSW, held a march across Ballina to 'Say No to Domestic Violence' to raise awareness in the community and implement educational programs in schools," Jodie said. "The event attracted 10 new members to the club, so club President DGND Dave Harmon, thought, 'Why can't this be a district campaign?' After a quick meeting with DG Andy, celebrating 100 years of Rotary in Australia with a cause became a reality," said Jodie.
"The positive result of this cause-based celebration has been to position Rotary in our district as an organisation that is relevant to our community today and the young people who are the innocent victims of domestic violence," said Andy, whose district has attracted 225 new members to Rotary since July 2020 and has grown membership by 11 per cent to reach 1310, with 37 per cent female and 9 per cent under 40 years of age.
"Family violence is a pandemic of a different kind. It's a social problem and it's preventable," said Dave. "The District 9640 baton relay is about connecting with communities, getting people's attention, and promoting the need to change our attitudes and behaviours. If Rotarians can eradicate polio, why can't we raise awareness, change attitudes, and prevent domestic violence in Australia and across the world?"
To watch the NBN Channel 9  news clip of the District 9640 relay with a cause, visit https://bit.ly/3deOsGk