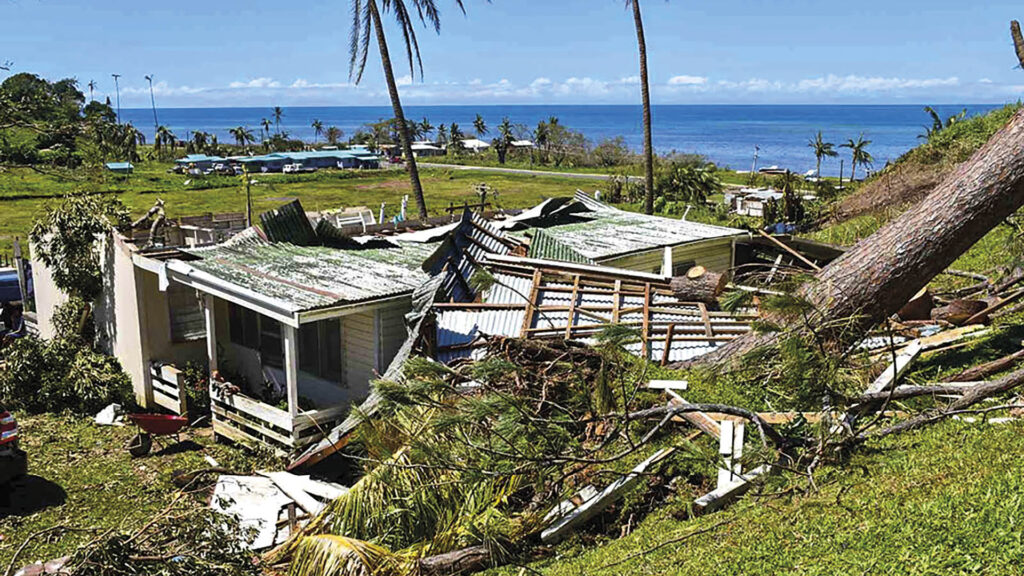 Rotary New Zealand World Community Service (RNZWCS) is appealing for funds to support their Fijian neighbours, following the devastation from severe Tropical Cyclone Yasa, which hit the main islands of Viti Levu and Vanua Levu as a Category 5 cyclone on December 17, 2020.
Tragically, four lives were lost as a result of the cyclone. There was also flooding and damage to buildings and crops on Vanua Levu, with schools and houses destroyed as residents took shelter in public facilities.
Rotary Emergency Response Kits pre-positioned at three locations in Fiji were dispatched to affected areas for distribution to families, who will receive additional relief supplies as coordinated by the Fiji Disaster Management Office.
Rotary collaborated with the New Zealand Ministry of Foreign Affairs Emergency Task Force and the Fiji Disaster Management Office to ensure the kits and other supplies were directed for best possible advantage to those affected. Rotary Fiji and supporters also provided logistical support.
Ongoing appeal funds will be used for additional Emergency Response Kits and other relief supplies, but may also support schools to rebuild, and support families to rebuild their homes and re-establish their vegetable gardens, in addition to health and education issues.
New Zealand has announced an initial package of support to Fiji as it assesses the damage, including a P3 Orion aerial surveillance flight.
"Our thoughts are with the people of Fiji who have been affected by this devastating cyclone. We are providing support to the Government of Fiji as it identifies and responds to emergency needs," said Foreign Minister Hon Nanaia Mahuta.
"We are working in partnership with RNZWCS and are making funding available to the New Zealand High Commission to respond to needs on the ground as requested by Fiji.
"New Zealand is also funding a technical adviser to the Fiji National Disaster Management Office, which is leading the response," Nanaia said.
How to Donate: 
At any Westpac branch or by internet banking
Quote: 03 1702 0192208 01
Ref: 111
International donors: SWIFT Code WPACNZ2W

Credit or debit card
www.rnzwcs.org

Give a Little
www.givealittle.co.nz/org/rnzwcs

Cheque
RNZWCS Limited (Rotary New Zealand)
PO Box 20309
Christchurch 8543
New Zealand

*Donations qualify for a tax credit