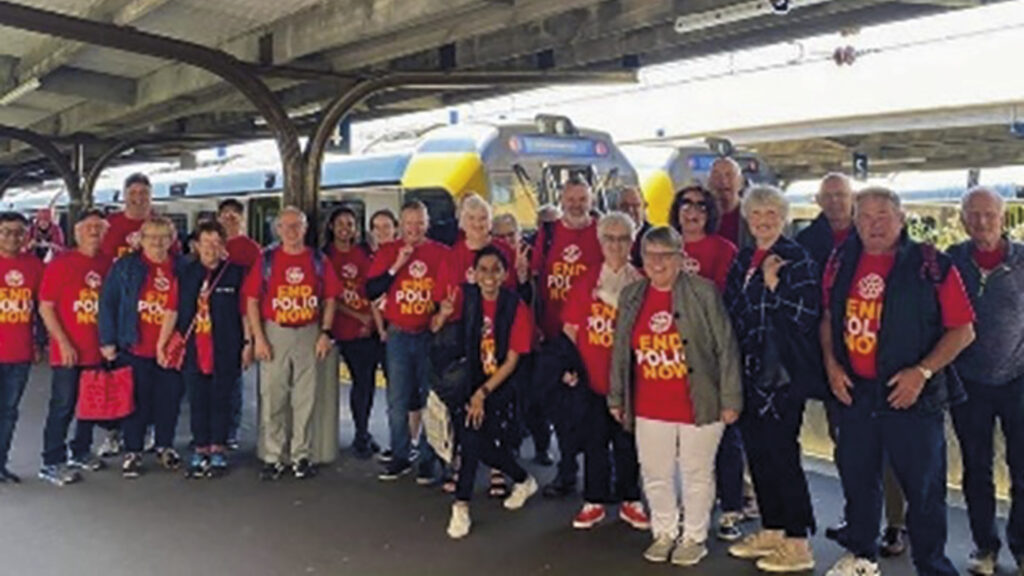 District 9940 in the south of New Zealand's North Island jumped on board the Train Ride to End Polio Now campaign, with Rotarians from throughout the district riding on the Capital Connection, the Wairarapa Line, and the four Metlink lines in Wellington, visiting all 62 stations in the lower North Island on the way.
The day started at 6.15am, with Rotarians from Manawatu and Wairarapa boarding the Wellington-bound trains in Palmerston North and Masterton respectively, and picking up others at various stations along the route. The team on the Capital Connection from Palmerston North included members of the newly formed UCOL Rotaract Club.
As the trains departed for the capital, Assistant Governor David Shackleton and Linda Wellington began setting up the district gazebo and barbecue at Wellington Railway Station, which would be the focal point of the day.
Teams were rostered on throughout the day from the Rotary clubs of Port Nicholson, Wellington South, Courtenay Place, Wellington, Karori, Wellington North, Wellington Rotaract, and Kapiti, selling bacon butties and rattling the collection buckets.
New participants joined the ride at various stations, while Aleisha Blakeley and Krisha Modi from Otaki College Interact Club, and President of the Rotary Club of Awapuni, Ramola Ladge, leapt off the trains at every station for a photo in front of the station signs.
At 2.20pm, the ride on all four Metlink lines was completed, and the last rides were left for the Wairarapa and Manawatu Rotarians to catch the evening trains back to their home locations.
However, the day was not yet complete, with an End Polio luncheon held at James Cook Hotel, where guest speaker Dr Heather Battles Zoomed in from Auckland. Heather is spending her summer looking at polio mortality in New Zealand in the early 20th century. Her research applies a holistic biocultural approach to understanding the evolution and ecology of infectious diseases in human populations and their impacts, both social and biological.