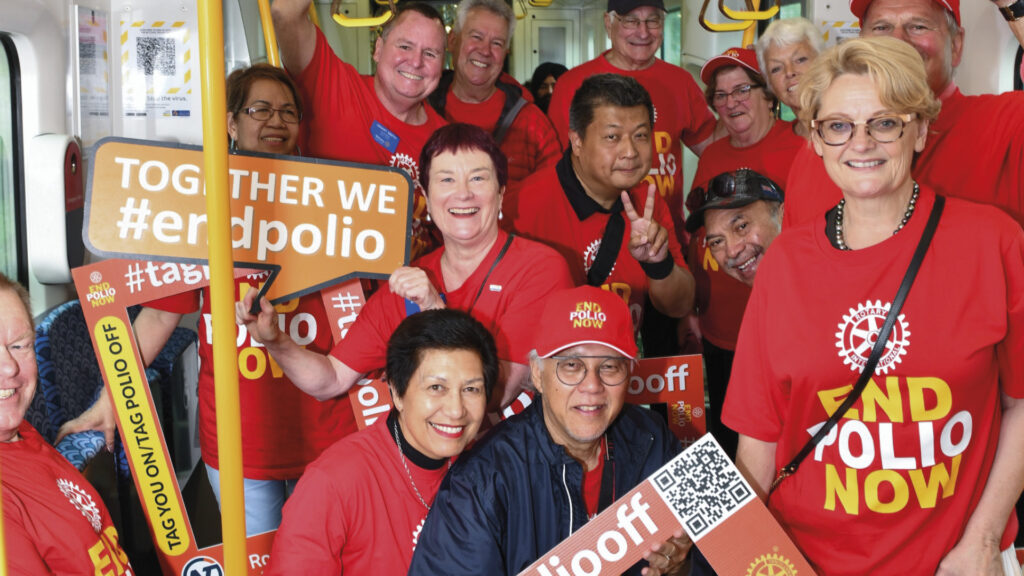 For 2020, the Polio All Transit Districts 9910 and 9920 task force decided to up its game for World Polio Day, adding Auckland's ferries to the previous rail itinerary. This year's event proved bigger and bolder than ever, despite COVID-19.
With Mayor of Auckland Phil Goff seeing the 50 riders off from Britomart Station, the day began with two councillors, four Members of Parliament, and four beauty queens, including Miss New Zealand, and another 40 Rotarians. It was a recipe for success.
Meanwhile, on the Harbourside, ferry riders had already completed two rides, having left Auckland for Waiheke followed by Half Moon Bay. District governors on the train then switched to the ferries to fully experience the All Transit Day.
While ferry riders stopped for lunch along the way, the train riders were on a tighter schedule.
Sustenance in the form of barbecued sausages and water was supplied by the Rotary Club of Papakura at their station, with the Rotary Club of Papatoetoe Central adding pizza to the menu at Pukekohe.
At the end of the day, $37,500 was pledged by clubs and individuals, with a sea of red all over the transit network, both on the trains and supplementary buses, together with the ferries on the Hauraki Gulf.
Roll on 2021, when, without the COVID-19 restrictions, we will accomplish so much more!