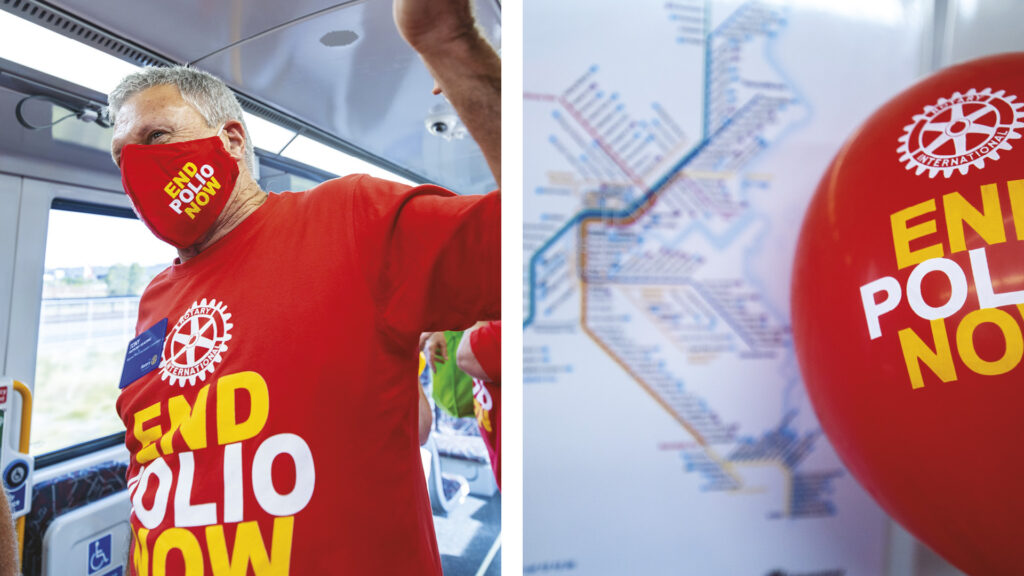 Queensland Rail was a sea of red on Friday, October 23, when 100 Rotary clubs across three Rotary districts in Southeast Queensland – Districts 9600, 9630 and 9640 – collaborated for the Train Ride to End Polio Now campaign.
Kicking off in Gympie at 5.56am, hundreds of Rotarians and Rotaractors jumped on and off at various stations as the train made its way into Brisbane, down to the Gold Coast and out to Ipswich, finishing up in Rosewood at 9.56pm.
Giant cheques were passed through briefly opened doors, raising funds and awareness for Rotary's End Polio Now campaign.
District 9640 Foundation Chair, Phil Fairweather, said the objective of the train ride is five-fold.
"It's about making people aware of polio, raising money for polio, setting a new challenge for clubs that haven't done this before, getting people involved in an event that promotes fellowship, and raising awareness in the community about what Rotary does," Phil said.
"This year, we managed to end polio in Africa, but we haven't managed to get rid of it in Afghanistan and Pakistan. So, we're 'this close', as everyone says, and this is really the last push. We want to get it done as quickly as possible and we need to keep that push up so we can achieve our goal."
With 227 stops made along the way, approximately $60,000 was raised for polio eradication across the three districts.
District 9600 Foundation Chair, PDG Eric Wood, was up before the birds, arriving in Caboolture at 2am to make it to Gympie in time for the 5.56am kick-off.
"This year's turn out from all three districts has been fantastic," said Eric, who also completed the inaugural Southeast Queensland event last year. "It bodes very well for next year."
District 9630 Foundation Chair, PDG Nick Curry, was also on board for the entire network.
"We can't believe the turn out," Nick said. "There have been so many people on the train. We've taken over an entire carriage and every single train we've been on there has been more of us than all the other passengers combined.
"The reaction of the public has also been incredible. Lots of people have asked us questions and the reaction of some of the kids has been interesting, because they've never heard of polio before. To try and explain what this is all about and why we want to end polio is a challenge for a kid who never knew what polio was in Australia, because vaccines were invented before their parents were even married."
District 9600 Governor Neil Black jumped on board at Caboolture and said this year's core group of travellers far exceeded last year's turn out.
"We've had Rotarians jump on and off at various stations, but the core group is a really good, fun group to be with. We've got District 9640 joining us this year, so to have the three Southeast Queensland districts on the train is great."
Joining the fun for the first time this year, District 9640 Governor Andy Rajapakse said the train ride is a great way to show that Rotary is not always about fundraising, sausage sizzles and service.
"It gives us the opportunity to have lots of 'funraising', coming together as members of one large family to create awareness for the urgent need to eradicate the polio virus," Andy said. "We are 'this close', so let's do it!" District 9630 Governor Patrice Robinson agreed.
"It's a great way to raise awareness and to work with each other across districts," Patrice said.
"Polio is obviously a big-ticket item for us, which we will continue working on until we are finished. To be part of that is fantastic."