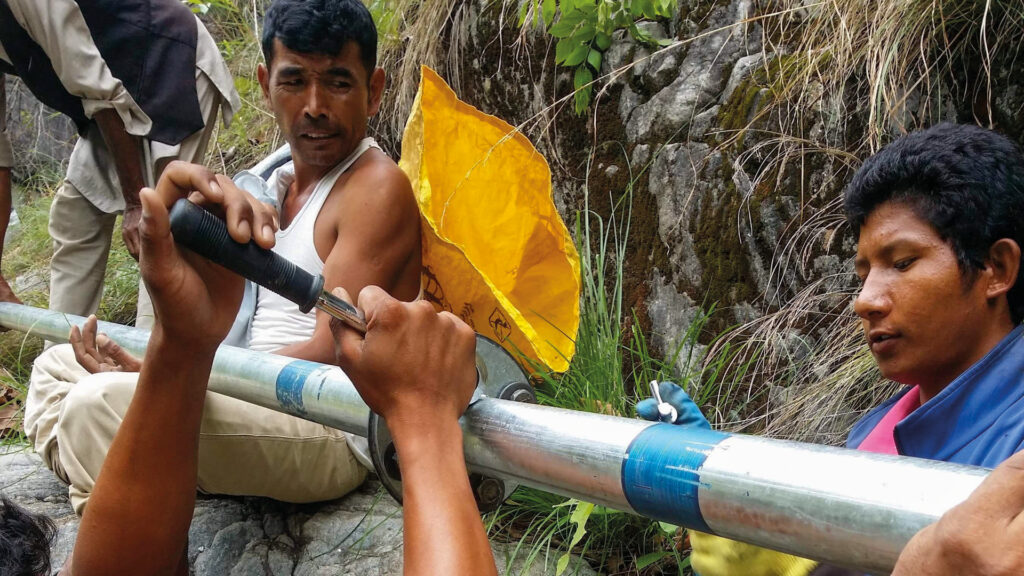 In 2016, following a devastating 7.8 earthquake the previous year, the Rotary Club of Westhaven, NZ, began working with The Himalayan Leaky Foundation of Nepal (HLF) on a number of projects.
Following a visit to the Thamdanda community in the Kavre District of Eastern Nepal, where he observed how the devastation from the earthquake was still affecting the community two years later, HLF co-founder Rabindra Tamang contacted fellow co-founder Clare McCall, a member of the Rotary Club of Westhaven, to discuss how they could assist.
The main occupation of people in the area is agriculture, and the one water source that serviced the area was destroyed in the earthquake. This resulted in an acute water shortage, leaving the community with no access to sanitation and safe drinking water, which gave rise to serious
health concerns.
HLF completed a full assessment with the community of 443 people (82 households), with the villagers helping identify the needs themselves.
The Rotary Club of Westhaven partnered with the Rotary Club of Kavre-Banepa, Nepal, to successfully sponsor a Rotary Foundation global grant project. With active support from District 9910, District Designated Funds from every district within New Zealand, and Districts 9820 in Australia and 3501 in Taiwan, together with cash contributions from District 9910 clubs, the project has been a real international effort.
The main objectives included safe drinking water supply facilities, health and sanitation facilities, and institutional development and capacity building of the Water Users Committee and local communities, while providing for agriculture extension and livestock development.
The water pipeline service included 8.45km of galvanised and HDPE pipe work over rugged hills, rocky terrain and bridge crossings.
The project was managed by civil contractors, who involved members of the local community each step of the way, including training some of the young men in plumbing operations, installation, and sustainable management of the systems. This gave the men valuable skills for future employment opportunities.
Women were also trained in various skills, including book-keeping and commercial agriculture. This enables the women to successfully grow crops and sell the produce, creating thriving small businesses and enthusiastic entrepreneurs.
The project was successfully completed in March 2020, right before Nepal and the rest of the world went into COVID-19 lockdown. Although parts of Nepal are still in stages of lockdown, the 433 people of the Thamdanda villages are now getting safe, fresh water for drinking, have access to sanitation facilities, and to reliable water supplies for irrigation.
The Thamdanda women are actively involved in the production of seasonal vegetables and able to sell their products from their own village. Everyone is working together to rebuild what was lost and are confidently looking towards a brighter, healthier and happier future.