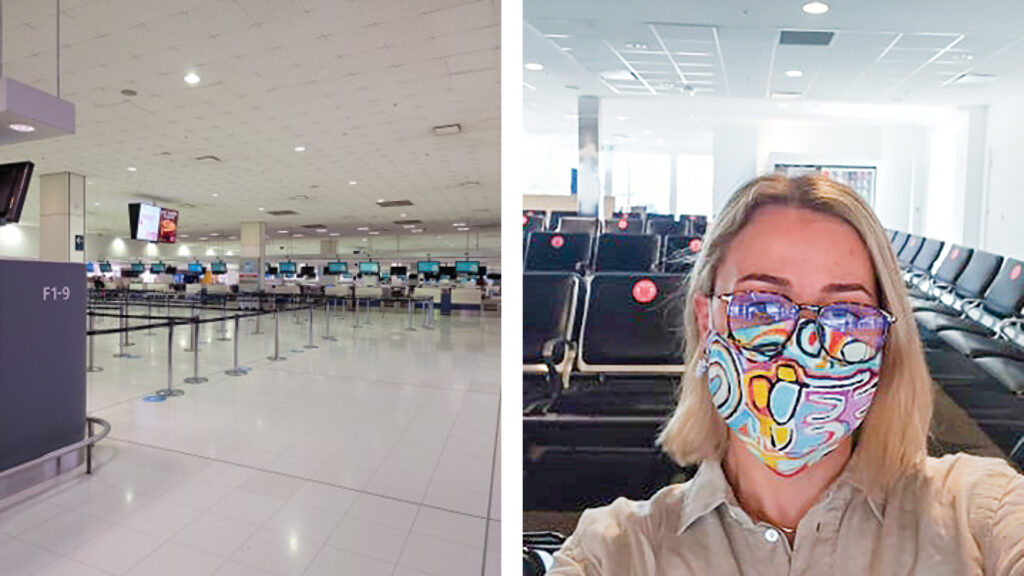 In early July, the Rotary Club of Darwin, NT, was advised that its US$30,000 global grant application for a scholarship to assist local high school graduate Sophie Philip undertake a master's degree in the United Kingdom had been approved.
Sophie will undertake a Master of Philosophy in Criminological Research at the University of Cambridge, which hosts the world's leading Institute
of Criminology.
"This program will equip me with the knowledge and skills to meaningfully contribute to research and evidence-based policy in the area of domestic and family violence throughout my career, and in this way falls within the Rotary Peace and Conflict Prevention/Resolution Area of Focus," Sophie said.
The Rotary Club of Darwin has a close association with the No More Campaign, which seeks to address family and domestic violence by promoting awareness and encouraging men, in particular, to link arms and take action to reduce violence.
"Given this strong association with the campaign, we knew we had to support Sophie," said club Foundation Chair Grant Lindsay.
Having completed her Rotary orientation, Sophie began the COVID-challenged process of leaving Australia and getting to the UK. First step, applying for an exit visa to depart Australia. Once that was achieved, a visa application for the UK was needed, which required a trip to the British Consulate office in Brisbane, Qld, to provide bio-metric data and hand over her passport.
All went well, her passport was returned, and it was time to book flights. But while Australians can enter the UK without quarantine, this only applies when flying in from a 'cleared' port – with Hong Kong being the only viable option. There was also a significant range in fares from $1500 to more than $10,000!
Sophie finally departed Darwin on September 27, with a short stop in Brisbane with family before departing for the UK via Sydney and Hong Kong on September 28.
She has since arrived safely and reports that, "I'm very pleased to be sending this update from my college room at Trinity College.
"The journey over was predictably bizarre – both Sydney and Hong Kong airports were almost totally bare. I did feel like my own preparations for international travel were somewhat inadequate when a series of people wearing hazmat suits, goggles and lucite face shields, with their luggage encased in garbage bags, boarded the flight from Hong Kong to London.
"Wonderfully, my college has been running in-person introductory events all week, which are always in groups of six, masked except when eating and drinking, and held outdoors. At this stage, my course will also be running mostly in person, as the MPhil in Criminological Research is taught via small seminars of about one to four people. These feel like great wins in this dystopian year!"
Sophie and the Rotary Club of Darwin would like to thank Regional Grants Officer Steven Sundstrom (see page 27) for his assistance in putting together the grant application, District Rotary Foundation Chair PDG Allan Church and PDG Ron Degenhart for their support and allocation of District Designated Funds to make this scholarship possible, and the Rotary Club of Cambridge Rutherford, which will host Sophie while in Cambridge.
What is a Global Grant Scholarship?
Global grant scholarships fund graduate-level coursework or research for one to four academic years. A key feature of global grants is the partnership between the district or club in the study location (host sponsor) and the district or club in the scholar's home country (international sponsor). Both sponsors must be qualified before they can submit an application.
Through global grants, Rotarians can support future leaders in fields related to Rotary's seven Areas of Focus:
Peacebuilding and conflict prevention
Disease prevention and treatment
Water, sanitation, and hygiene
Maternal and child health
Basic education and literacy
Community economic development
Supporting the environment
Global grant scholars plan to pursue a career in one or more of these Areas of Focus, and their graduate-level educational goals should support this career interest. Pursuing a career in an Area of Focus means the scholar has a long-term commitment to measurable, sustainable change.