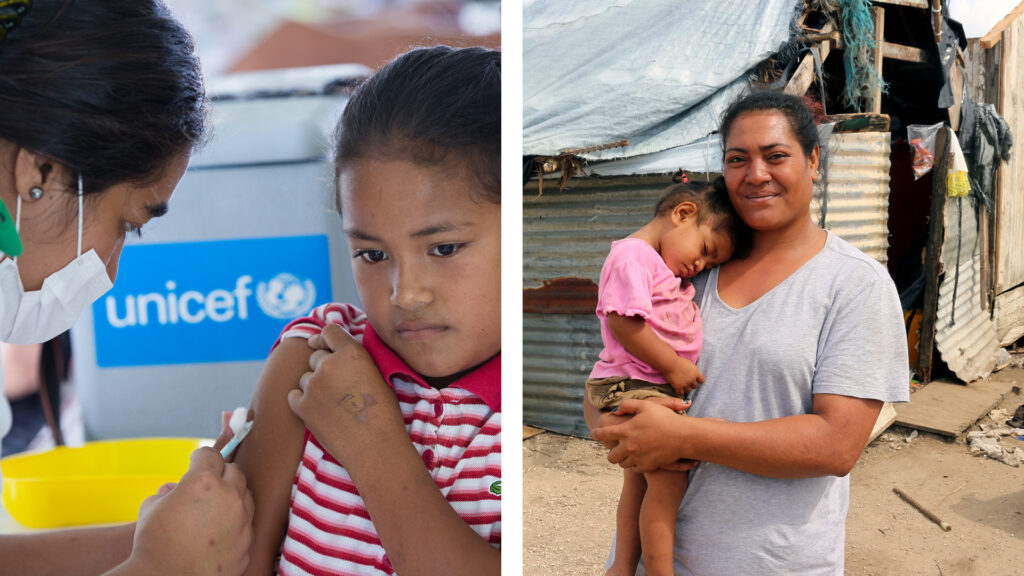 Our key international project to celebrate the 2021 centenary of Rotary in Australia, New Zealand and the Pacific, Rotary Give Every Child A Future, is now underway. Working in partnership with UNICEF, it is introducing three vaccines into nine Pacific Island countries.
Raising funds to complete this project is a priority. Diseases such as pneumonia and diarrhoea remain leading killers of children under five years of age and high rates of life-threatening cervical cancer continue to devastate Pacific Island families.
These life-saving vaccines will:
Vaccinate girls against the common forms of cervical cancer caused by the human papillomavirus (HPV).
Protect children against rotavirus, which causes life-threatening diarrhoea in children under five.
Prevent pneumococcal disease, which causes pneumonia, blood infections (such as sepsis) and meningitis.
The vaccines are being incorporated into the standard immunisation programs of the Cook Islands, Kiribati, Nauru, Niue, Samoa, Tokelau, Tonga, Tuvalu and Vanuatu. The governments of each country are fully supportive and committed to continuing funding once the most expensive introduction phase is completed. A key aspect of this project is to strengthen local healthcare systems and ensure the vaccination programs are sustainable long into the future.
The project is now underway, with vaccines ordered and the essential refrigeration equipment needed to store them being procured. The COVID-19 pandemic is causing some delays due to travel and other restrictions, but a lot can still be done remotely, and UNICEF is planning for the first children to receive the vaccines in early 2021.
Rotary Give Every Child A Future is a three- to four-year, US$3.9 million project. With the support of nine global grants from The Rotary Foundation, one for each country for the first year of the project, funds raised through clubs, individual Rotarians and most Rotary districts in Australia and New Zealand are funding the US$1.3 million needed for year one.
Immunisation projects such as this represent the most cost-effective form of assistance that can be provided to developing countries.
Rotary Give Every Child A Future is Rotary at its best: Taking action, saving lives. If you, your club or district would like to get involved, check out everychildafuture.com or email rotary@everychildafuture.com.