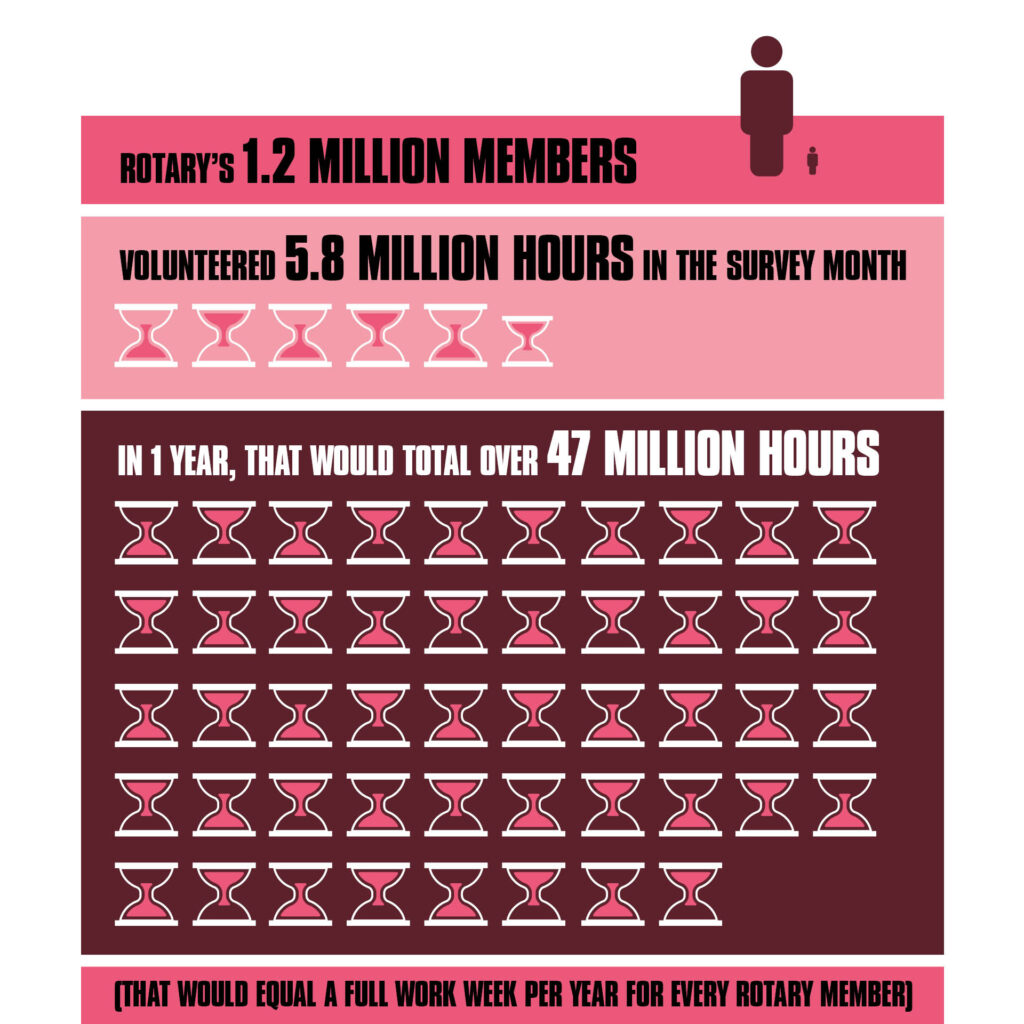 Service has long been recognised as a fundamental feature of Rotary membership. But neither Rotary nor any of the other major service organisations has been able to gain a meaningful handle on the actual scale or economic value of the volunteer effort they mobilise. Now, a recent international report has powerfully demonstrated the significant renewable resource of volunteering that service organisations
like Rotary are generating.
As the world emerges from the COVID-19 lockdown and an extended period of reflection, many will be looking for new meaning and purpose in their lives.
Nearly two and a half thousand years ago, the Greek philosopher Aristotle wrote, 'What is the essence of life? To serve others and to do good.' Giving back to the community is a long-held tradition and Rotary's motto of Service Above Self and mission to 'do good in the world' are befitting adaptations of Aristotle's ancient words of wisdom.
In the modern world, we live such busy lives it is hard to find the time to volunteer, however, research has shown that the benefits of volunteering are enormous. It not only helps others; it builds better communities and provides numerous benefits to the mental and physical health of the volunteer. It's a win/win situation!
Volunteering helps counteract the effects of depression, stress, anxiety and anger. The social contact of helping and working with others has a very positive effect on overall psychological wellbeing. Nothing relieves stress better than a connection with a likeminded person or someone in need.
By measuring hormones and brain activity, researchers have discovered that being helpful to others brings great pleasure. Human beings are hard-wired to give. The more we give, the happier we feel. So, volunteering does make you happy.
It has also been proven that volunteering improves self-confidence, provides a sense of purpose and helps volunteers stay physically healthy – thus, volunteering themselves to health! A recent worldwide study on the 'The Scope and Scale of Rotary Volunteering', conducted by the John Hopkins Centre for Civil Society Studies found that:
Rotary's 1.2 million members volunteered a total of nearly 5.8 million hours in the four-week reference period. Taking out the hours of volunteering associated with World Polio Day, which fell in the survey reference period, Rotary members accounted for close to 5.1 million hours of volunteering.
Rotary annually mobilises volunteer effort equivalent to nearly 27,000 full-time paid workers.
Rotary volunteers save communities an estimated US$850 million in service costs per year.
Our members are responsible for 47 million hours of volunteering per year.
Average volunteer hours per month varied by region, with the average hours in Australia and New Zealand being six.
These statistics do not include the more than one million friends and relatives of members who frequently help out at Rotary-organised volunteering events. Nor do they include the volunteering contributed by more than 700,000 members of Rotary's Rotaract, Interact or Community Corp affiliates.
The study concludes that:
'Rotary is annually generating a scale of social and economic problem-solving effort that is worth nearly nine times more than it costs the organisation to produce. Here is a powerful demonstration of the enormous leveraging possibilities available from mobilising the unique renewable resource represented by volunteer work.
'For a world challenged to meet a demanding set of Sustainable Development Goals (SDGs) in the face of withering environmental catastrophes and limited governmental and philanthropic resources, the lesson is clear: volunteer service is not only a feel-good calling – it may provide one of the more promising, and one of the more fulfilling, avenues through which to achieve the ambitious goals that the international community has set for itself. By putting itself through the demanding inquiry described here, Rotary may thus have done a special service by opening this avenue for all to see. If so, this work will have more than met its objectives.'
Oscar Wilde summed up volunteering in his quote: 'The smallest act of kindness is worth more than the grandest intention.' Rotary members all bring a wealth of skills and knowledge to their clubs. Giving to and helping others not only connects you to people, it can also advance your career and brings fun and fulfilment to your life. Whatever your age or life situation, volunteering can help take your mind off your own worries, keep you mentally stimulated, and add more spark to your life.
By Anne Matthews
Rotary Club of Bribie Island, Qld